Welcome to the 424th Edition of my series. This is my last post of the year and have continued with a few holiday selections seeing as my family is celebrating Christmas today. With this being the last one of the year, I have reflected quite a bit on this year. Like anyone, I'm going to have some downs but have had a lot of ups. This year, I have put more importance upon friendship than I ever have and have met a lot of new friends and became closer to others. I suppose my New Years resolution is to keep these friendships I have made and to keep them stronger as I'm not really one for resolutions. I am also proud to annouce that last week, I replaced the 1988 Buick LeSabre with a 2004 Dodge Caravan which drives very well. I will now get to my selections for the week.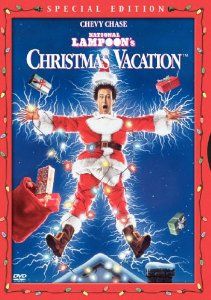 Christmas Vacation (1989): I start the week out with this Christmas comedy which was directed by Jeremiah Chechik and written by John Hughes. This is the third of the National Lampoon's Vacation series which have Chevy Chase and Beverley D'Angelo reprising their roles as married couple Clark and Ellen Griswold while Juliette Lewis and THE BIG BANG THEORY co-star Johnny Galecki play their kids Audrey and Rusty. Clark wants to really go all out like he always does and throw a great Christmas party no matter what great intentions, he has things just always go wrong. It does not get easier when the relatives come to the house especially his cousin Eddie, played by Randy Quaid, and his trailer park trash family are there. John Randolph, Diane Ladd, E.G. Marshall, Doris Roberts, Julia Louis-Dreyfus, Brian Doyle-Murray, Betty Boop's voice of Mae Questel, and many others co-star in this Christmas comedy. This movie delivers many holiday laughs and for those who are tired of the sappy holiday films can turn to this one for refuge. It is a very fun comedy with a very amusing opening sequence up to the end where the only predicability is that things will not go right but in a funny way. This is available on Instant Netflix.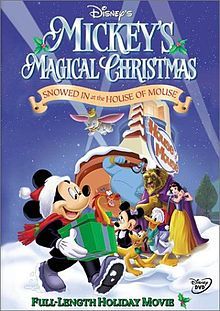 Mickey's Magical Christmas: Snowed in at the House of Mouse (2001): This is a Disney movie based on HOUSE OF MOUSE where Mickey and friends are snowed in for the holiday and Donald Duck is not feeling the Christmas spirit. This consists of footage from the house and Mickey presenting classic Disney shorts like MICKEY'S CHRISTMAS CAROL and even original ones like I believe the one on THE NUTCRACKER was added but I could be wrong on that one. A lot of people did not like this and while it was flawed I still found it to be a pretty decent holiday selection which featured just about everyone from Disney from old to the time this was made. It looked like the heroes and villains were able to put their differences aside at least for Christmas. It is also good to see MICKEY'S CHRISTMAS CAROL featured as it is a classic from Disney. This is available on Instant Netflix and one for the family.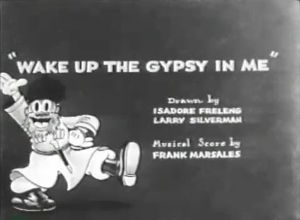 Wake up the Gypsy in Me (1933): This is my animated short for the week from Merry Melodies. This consists of a band of Russian Gypsies in which girls are targetted by the mad monk Rice-Puddin' which is an obvious caricacture of Rasputin. This is rather racy for its time but has some pretty funny moments. This was part of the dvd of PICTURE SNATCHER which I featured last week.
Tommy (1975): This is my rock opera for the week which is based on the Who's album of the same title. The Who member Roger Daltrey plays the title character in his grown years and is deaf and blind. He soon begins to master pinball even though he cannot hear or see and becomes the subject of a religious cult. Ann-Margret and Oliver Reed play Tommy's exploitive parents. Elton John, Eric Clapton, Jack Nicholson, Tina Turner, and many others co-star in this rather strange musical but interesting and enjoyable. Nicholson shows his musical side which was not bad. Fans of the Who will likely enjoy this one. Some who are really religious may find this offensive. This ambitious project really is worth a look. The Muncie Civic Theater actually put on a stage version years ago that was pretty good.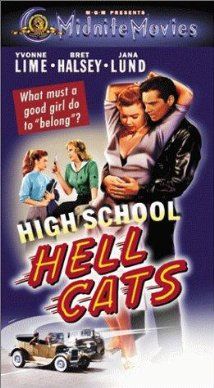 High School Hellcats (1958): This was a rather daring movie from this era which focused on a female gang of the title. Yvonne Fedderson stars as Joyce who is a new student who looks for acceptance and to fit in where she it taken in by the Hellcats after passing tests. She soon begins a more rebellious life but must begin to choose between her gang and a man she likes where being with men is pretty much forbidden. This grabbed my interest when I heard about female gangs which was rather unheard of in those days for movies and these girls were very mean. This was probably meant to be a message film and is really more of a drive-in movie night for the friends. This is available on Instant Netflix.
Game Change (2012): This is my HBO movie of the week which was directed by Jay Roach, written by BUFFY THE VAMPIRE SLAYER alum Danny Strong and based on the novel by Mark Halperin. This is based on the 2008 presidential campaign of John McCain, played by Ed Harris, whose strategist Steve Schmidt, played by Woody Harrelson, suggests a conservative female as his running mate so chooses Alaskan governor Sarah Palin, played very well by Julianne Moore. Once Palin comes into the picture, it focuses on her trying to adjust to becoming part of the nation and finding herself in over her head to the point of having a meltdown. This is a very good political film where a progressive decision proves to be a possible downfall. This puts a more human portrait on Palin as a family person who did not know what she was getting herself into. This is available on HBO On-Demand.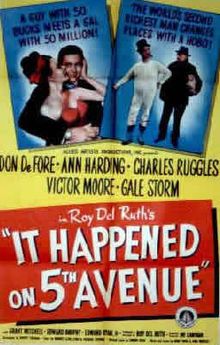 It Happened on 5th Avenue (1947): This is the last of the holiday films and looked into it after seeing my Facebook friend Carter put a quote and none other than Sean knowing the movie in which I had not heard of until then so found it on TCM and recorded it. Roy Del Ruth directed this film which stars Dom DeFore as Jim who has just become homeless due to his apartment complex being closed. He then meets a man named Aloysius, played by Victor Moore, who has been occupying a house, which is the former owner of the apartment complex, when no one is there. He then joins the home and starts taking in others looking for a home. Ann Harding co-stars as Mary who is the daughter of the owner and likes that people are using the house and a very harmless people. This is a very fun and good-spirited movie that shows the giving side of the holidays. It is also a very underrated film that should get more exposure so maybe put this on your holiday list next year.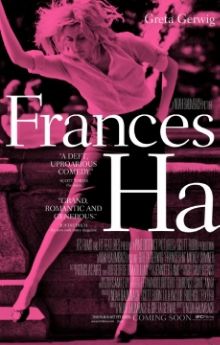 Frances Ha (2012): I got the idea to look into this one when my Facebook friend Robert posted his gift of this dvd. Noah Baumbach co-wrote and directed this film. Greta Gerwig stars as the title character who has been an apprentice at a dance company pursuing a dream of being in a touring dance group but does not seem to be going very far. She still looks to pursue this dream no matter how unrealistic it is becoming. This was very well shot in black and white with Gerwig very perfect for her role. I found this to be more of a character study than anything on someone who did not have any realistic goals or ambitions and maybe just wanted to enjoy life day by day instead of growing up. It is really hard to put a description of this in words. The relatively unknown cast worked very well. This movie really deserves a look and is available on Instant Netflix.
Mandabi (1968): This is my foreign film for the week which takes place in Africa. Ousmane Sembene wrote and directed this film where an African man named Ibrahim receives a much needed money order from a family member in France. The problem is that he must deal with the bureaucratic and societal forces in trying to get this money which he finds is very difficult. This is a very good look at the African culture in Senegal. Sembene is the first African filmmaker to achieve international recognition and in this movie paints a very authentic portrait of people in the country. Makhaouredia Gueye plays Ibrihim and does a very good job in his role. This is a rather sad film at times but has some funny moments. This is available on Instant Netflix and is a must for foreign film buffs as well as those interested in the African culture.
Fargo (1996): I now end with some Coen Brothers. William H. Macy stars as Jerry Lundegaard who works at his father-in-law's, played by Harve Presnell, auto dealership. He soon falls into some financial problems and comes up with what he believes is a simple and foolproof scheme. He hires a couple criminals, played by BOARDWALK EMPIRE star Steve Buscemi and Peter Stormare, to kidnap his wife and then to have her wealthy father pay the ransom in which they would split. Soon, the plan goes awry as the criminals soon she bloodshed due to their bungling of the crime and lack of preparation like forgetting to put license plates on a car when they have kidnapped someone. Soon, the pregnant Sheriff Marge Gunderson, played by Frances McDormand, begins to investigate the murders which lead her to the car dealership. The beginning puts a disclaimer that this is a true story. A lot of that was for dramatic reasons as the plot is very fictional. There was inspiration drawn from the murder of a Danish flight attendant named Helle Crafts. Macy really became a lot more known after this film and really fought for the part. He is great in his role as a desperate man who sinks very low to recover. McDormand is also very good as the sheriff. Bruce Campbell can be seen near the end when there is a tv that does not get very good reception. They are watching an tv series called GENERATIONS that Bruce Campbell was in. This was a rather dark film that had its comedic moments. I really believe that just about everything in this movie worked with the direction, performances, cinematography, and even the music score by Carter Burwell. This is available on Instant Netflix.
Well, that is it for this week. Tell me what you like and dislike and stay tuned for next week and hope everyone has a good new year and a great 2014.