Welcome to the 449th Edition of my series. I hope everyone is doing well but I cannot really think of much to say right now.
Walk the Line (2005): I start the week out with this music biopic was directed by James Mangold. This is based on country music legend Johnny Cash and based on his autobiography. This movie takes a look into the childhood of Cash, then into his rise in country music. Joaquin Phoenix stars as Cash which charts a lot of his ups and downs. It shows his first marriage to Vivian, played by Ginnifer Goodwin, which ended due to his constant absence and drug problems and his eventual marriage to June Carter, played very well by Reese Witherspoon. Robert Patrick, Dallas Roberts, Shelby Lynne, Tyler Hilton, Waylon Payne, Shooter Jennings, Jonathan Rice, and many others co-star in this film. Payne was very good as the wild Jerry Lee Lewis. Phoenix and Witherspoon were great together and really fit their roles well as well as their singing. Shooter Jennings is the son of Waylon Jennings who he portrays. This is a very good bio-pic that is brutally honest and really worth checking out.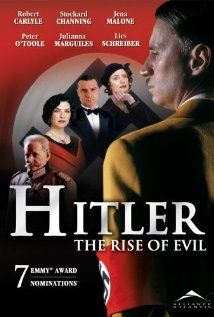 Hitler: The Rise of Evil (2003): This is my mini-series for the week which as you might have guessed is based on famed German dictator Adolf Hitler. Robert Carlyle stars as Hitler and this starts out with his childhood going into his younger years in adulthood where he was an aspiring artist but rejected from art school. It also shows days in WWII and his rise in the Nazi party up to his years as an evil leader. Liev Schreiber co-staras as Ernst Hanfstaengl who was a friend of Hitler but slowly sees he is a very dangerous man. Matthew Modine co-stars as Fritz Gerlich who was a reporter and did everything possible to expose Hitler but was unsuccessful. Jena Malone co-stars as his niece Geli Raubal which was someone I was not aware of and someone Hitler obsessed over to the point of pretty much holding her prisoner. Stockard Channing, Peter Stormare, Peter O'Toole, and many others co-star in this mini-series. I thought Carlyle did a good job of portraying Hitler. As I look into the history, I find that the writers of the mini-series did take a lot of liberties in how they portrayed many events and was historically inaccurate in many ways. It was still pretty entertaining and I have read that the disturbing scenes with his niece were pretty real. I still enjoyed this mini-series charting a very bad part of our history.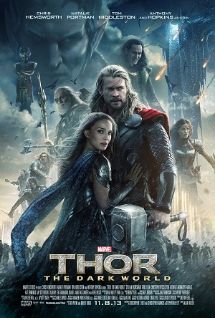 Thor: The Dark World (2013): This is my superhero film of the week. After saving the world in New York, Thor, being reprise by Chris Hemsworth, returns to Asgard only to find that he must protect the world from the Dark Elves. Thor is also looking to bring peace to the nine realms. Natalie Portman also reprises her role as Jane Foster who longs for the return of Thor who she has not seen for a couple years. He finally returns after learning that she has disappeared from the grid. He also discovers that she is possessed by a great power that could lead to her death. In order to save Jane from this, Thor is forced to team up with his mischievous brother Loki, reprised by Tom Hiddleston. Anthony Hopkins, Rene Russo, Christopher Eccleson, Jaimie Alexander, Idris Elba, Adewale Akkinnuoye, Kat Dennings, Stellan Skarsgard, and many others co-star. I believe Hiddleston is the standout in this film as Loki who was originally not going to be in this movie but was rewritten into the script due to his popularity in the 2012 film THE AVENGERS. This does not beat THE AVENGERS by any means but still had good performances and was pretty entertaining. This is available on Starz On-Demand.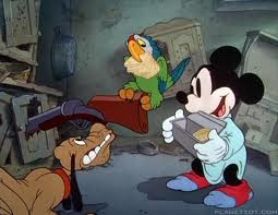 Mickey's Parrot (1938): This is part four of my animated Disney shorts and this one will be the last for a while. A tempered parrot takes refuge in Mickey's home. Mickey hears about a killer on the radio and believes the parrot he is hearing is that parrot. Pluto soon runs into the parrot and tries to catch it but is very unsuccessful. This is some really good early Disney and classic Mickey.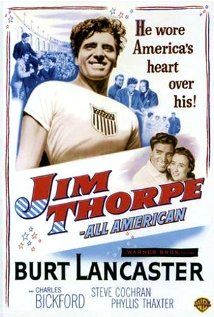 Jim Thorpe- All-American (1951): This is my third biopic of the week and this one focuses on the legendary athlete Jim Thorpe, played by Burt Lancaster. Michael Curtiz directed this one on the Native American who is sent to a school for Indian children to get educated where he finds his place in the world of sports and in college athlete in Track, football, and baseball where he also becomes an Olympic gold medalist but gets it all taken from him in a technicality. He soon excels in pro sports but also goes off the deep end with his alcohol problems which cost him things like his marriage. Charles Bickford co-stars as Pop Warner who knows Jim from childhood and never gives up on him. This is a pretty good portrait which charts just as many downs as it does ups but is pretty realistic. Lancaster does a very good job as Thorpe.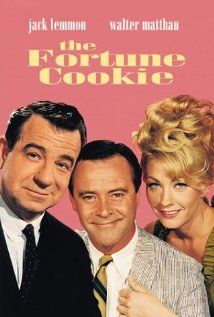 The Fortune Cookie (1966): Billy Wilder directed and co-wrote this comedy which was the first teaming of the comedy team of Jack Lemmon and Walter Matthau. Lemmon stars as Harry Hinkle who is the cameraman for the NFL and gets knocked out by a player having to go to the hospital. Matthau stars as his brother-in-law Willie Gingrich who is an ambulance chaser attorney who sees an opportunity to get a lot of money by exaggerating Harry's injuries. Harry reluctantly goes along with the scam in hopes that his ex-wife Sandy, played by Judi West, will come back to him. He also gets to know Luther, the star player that ran into Harry, who becomes affected by what is happening. This in my opinion is the best of the teamings and is very overlooked today compared to THE ODD COUPLE which I also love. I hope to get this one on the radar which is the start of a great comedy team.
How Green Was My Valley (1941): John Ford directed this drama of a Welsh mining family. Donald Crisp stars as Gwilym who is the patriarch of his family and whose oldest sons all work at the coal mine. This is seen through the eyes of the youngest Huw, played by a young Roddy McDowell, whose father wants a better life. Walter Pidgeon co-stars as the new preacher Mr. Gruffydd who develops a mutual attraction to Gwilym's daughter Angharad, played by Maureen O'Hara. This is a pretty good portrait of a turn of the century town with good performances and well-written characters.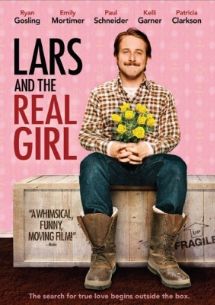 Lars and the Real Girl (2007): Craig Gillespie directed this independent comedy-drama. Ryan Gosling stars as the title character who is a rather shy and socially-awkward young man. He soon announces a new girl named Bianca which is a sex doll he orders off the internet but sex is far from what Lars has in mind. He has in mind a meaningful relationship. His brother and sister-in-law, played by Paul Schneider and Emily Mortimer reluctantly go along with this delusion but soon begin to accept him and the rest of the community accepts Bianca as a member of the community. This is one of my favorite movies and always like when someone can take a rather absurd plot and turn it into something so good and even beautiful. Patricia Clarkson co-stars as Dagmar who diagnoses Lars as delusional but encourages his family to go along with him. Gosling is great as Lars and is very likable and someone you can really understand. I did not think I would like something like this but was pleasantly wrong. This is available on Instant Netflix and Amazon Prime.
Buona Sera, Mrs. Campbell (1968): Melvin Frank directed this comedy which could be considered the inspiration to the musical MOMMA MIA. Gina Lollobrigidia stars as Carla Campbell who lives in an Italian village and has for years told three former U.S. servicemen they are the father of her daughter Gia, played by Janet Margolin. The three men who are believed to be the father are Telly Savalis, Phil Silvers, and Peter Lawford. Each of them have had some good times with Gina but now they are all together and things get very complicated and comical. Shelley Winters co-stars as one of the wives. Lollobrigidia is great as Carla and the movie is something that has gone overlooked so maybe this will help get it on the radar some.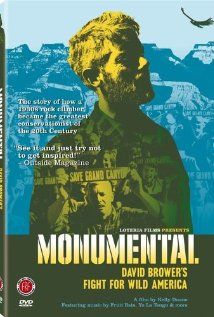 Monumental: David Brower's Fight for Wild America (2004): I end this week with this documentary. Brower was an enviromentalist through much of the 1900s and fought to preserve what he could of our wilderness. He was the founder of many organizations like the Sierra Club Foundation. Many of his friends and family reflect on the kind of man he was and his early days where he did a lot of rock climbing. Brower is a very valuable historic figure but not really known and I admit I had no knowledge of him myself until I watched this one. This is available on Instant Netflix.
Well, that is it for this week. Stay tuned for next week which so far includes Julianne Moore, and many others.