Welcome to the 459th Edition of my series. I hope everyone has a good Labor Day. I am excited that this Thursday kicks off the real season of football. I have a draft on Tuesday so we'll see if I can earn some extra money. That's all so far so I'll just get on with my selections.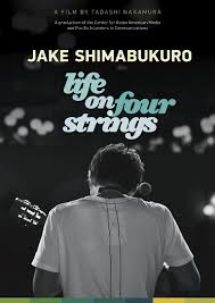 Jake Shimabukuro: Life on Four Strings (2012): I start the week out with this PBS documentary which was presented to me by my Aunt Marcia when I was out there the last time. Shimabukuro is a musician who has mastered the ukulele and has found some rather unexpected success from it. This shows his life from boyhood growing up in Hawaii with a single mother to his rise after a viral Youtube video of him playing the Beatles hit WHILE MY GUITAR GENTLY WEEPS on his ukulele. He is very innovative with this instrument that most people associate to singer Tiny Tim and his song TIPTOE THROUGH THE TULIP TREES. Marcia was also talking about how her daughter Carrie and her husband David got to meet this man after a show and was very personable to everyone. This is really worth a look and one will never look at the ukulele the same way again when finishing this documentary. This is available through Instant Netflix.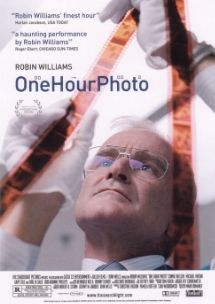 One Hour Photo (2002): This is my tribute to Robin Williams who recently left us and I know this is a bit overdue. Mark Romanek wrote and directed this unusual thriller. Williams stars as Sy who plays a more creepy role than usual. He is an employee who has worked for many years at a photo lab in a department store. When developing photos, he takes an interest in their photos especially towards the Yorkin family whose photos he has developed for years. Connie Nielson co-stars as Nina Yorkin who is in a troubled marriage with her husband Will, played by ALIAS alum Michael Vartan. Sy also imagines that he is part of the family even to the point of being "Uncle Sy" to their son Jacob, played by Dylan Smith. Things happen at work and uses his job to expose a secret to their family and becomes very obsessive to the point of violence. Williams was great in this movie and is a really good portrait on someone who seems very lonely in life. I believe this is one of the more underrated films of Robin Williams.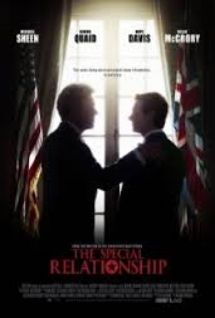 The Special Relationship (2010): This is my HBO movie for the week. This takes a look at the relationship between then U.S. President Bill Clinton, played by Dennis Quaid, and British Prime Minister Tony Blair, played by Michael Sheen. They become pretty good friends but have a disagreement where Blair goes behind Clinton's back which puts their "special relationship" to the test. This was also around the time that Clinton was had the sex scandal with Monica Lewinsky. Hope Davis co-stars as Hilary Clinton and Helen McCrory co-stars as Cherie Blair. This was a pretty good dramatization of the political leaders and good performances. This is available to watch on Amazon Prime.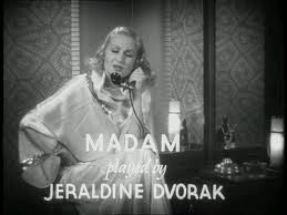 Nothing Ever Happens (1933): This is my musical short of the week which in many ways is a recap of last week's feature GRAND HOTEL except it has some musical numbers and different actors. It is also a pretty good parody and a good companion piece that has pretty good musical numbers and performances.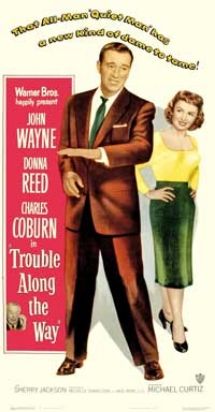 Trouble Along the Way (1953): I was browsing through the library and when on the comedy shelf I found one with John Wayne so I was rather curious. Michael Curtiz directed this comedy where he is a controversial football coach being hired by Father Burke, played by Charles Coburn, who is trying to save his private college and believes improving the football program and bringing in Steve Williams, played by Wayne, despite his controversial past as a coach. At the same time, Williams is in a custody battle for his daughter Carol, played by Sherry Jackson. Donna Reed co-stars as Alice who is a social worker trying to evaluate how fit Steve is of being a father and disagrees with his relationship with his daughter which is more of a friendship. The parent/child relationship really reminds me of THE CHAMP. James Dean is an extra as one of the football spectators. This was good to see the Duke stray away from his usual wars and westerns and do a pretty good comedy/drama that has become rather forgotten.
The Gauntlet (1977): Clint Eastwood directed and stars in this action film. Eastwood stars as alcoholic detective Ben Shockley who is assigned to a "simple" task of getting a prostitute named Gus Mally, played by Sondra Locke, from Phoenix to Las Vegas in order to testify at a mob trial. He soon learns that he is dealing with both the mob and with a lot of police corruption leading to a very violent climax where over 8000 rounds of bullets are fired. In many ways, this movie made me think of a rather Hitleresque society they way the whole police force would follow such corrupt orders. Pat Hingle and William Prince also co-star in this action movie. This is one where disbelief must be suspended and if you can do so, this might be a pretty fun movie to watch.
Jackass Presents: Bad Grandpa (2013): This was included in my Movie Night at the Shera segment and went ahead and put it into this edition. Johnny Knoxville brings back his show that was popular in the early 2000s where he plays 86 year old Irving Zisman who is asked to take his 8 year old grandson Billy, played by Jackson Nicoll, from Nebraska to California to his real dad, played by Greg Harris. There are characters created but put themselves in real-life situations with unsuspecting people when Irving takes Billy into the world. Both Knoxville and Nicoll are very politically incorrect but very funny. I admit I really did not get into JACKASS but was open to this movie. My favorite scene was probably the one where they were in a bingo hall and a scene where Billy was pushing Irving in a shopping cart. They did a really good job aging Knoxville to the age his character was supposed to be. This is not for everyone, especially those who get offended easy. If you do not get offended easy, this will be great for some laughs.
Pumping Iron (1977): I continue with this documentary showing bodybuilders preparing for the 1975 Mr. Olympia and Mr. Universe contests which features action star Arnold Schwarzenegger who is a five time Mr. Olympia and defending his title. Another person featured is Lou Ferrigno of THE INCREDIBLE HULK fame. This was an interesting look into the world of bodybuilding and seeing some of these people before they were famous as well as the other bodybuilders. This documentary has gained more exposure through the years and is available on Instant Netflix which is really worth a look.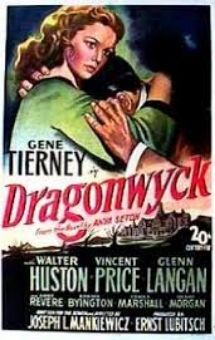 Dragonwyck (1946): Joseph Mankiewics directed this film based on the novel by Anya Seton. Gene Tierney stars as Connecticut farmgirl Miranda who meets a wealthy distant relation named Nicholas Van Ryn, played by Vincent Price, who invites her to be a companion to his daughter and later marrying him. She arrives to find that things are a bit strange and that Van Ryn is not very liked and for good reason. Walter Huston co-stars as Miranda's father Ephraim. Glenn Langan co-stas as Dr. Turner who leads a revolt against Van Ryn while also really liking Miranda. Jessica Tandy also co-stars in this film. This is a very good atmospheric drama with really good performances and cinematography.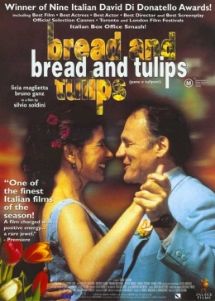 Bread and Tulips (2000): I end with this Italian film which was directed and co-wrote by Silvio Sidney. Licia Maglietta stars as Rosalba who is a mother and housewife and left behind at a cafe. She decides to go hitchhiking and ends up in Venice where she meets a lot of interesting characters and decides to stay there for awhile. This is a comedy and Maglietta was very amusing as Rosalba. Bruno Ganz also co-stars as Fernando who is one of the people she meets in this new town. This is a good film on self-discovery that keeps your interest throughout the film. It is hard to really describe this film further but is a must-watch as long as one can tolerate subtitles. This is available on Amazon Prime.
Well, that is it for this week. Stay tuned for next week which so far includes Mike Myers, Bela Lugosi, Samuel Fuller, Steve McQueen, and many others. Continue to read on for Movie Night at the Shera.
MOVIE NIGHT AT THE SHERA
Rocky (1976): We watched this on Thursday night. I figured with our mutual best friend Ashley living in Philadelphia, that this would be a good one to take a look at and Shera agreed to check this one out. For me, this is the definitive for inspirational films. Sylvester Stallone wrote and stars in this film which was directed by John G. Avildsen. Stallone stars as local boxer Rocky Balboa who has had a few local fights and works as a loan shark in order to make a living. The heavyweight champion Apollo Creed, played by Carl Weathers, cannot find a ranked opponent so comes up with a great publicity stunt to give a Philadelphia boxer an actual title shot and gives it to Rocky due to his nickname Italian Stallion. Talia Shire co-stars as Adrian who is very shy and Rocky does what he can to help her overcome the shyness and win her over. Burt Young co-stars as Pauly who is Rocky's best friend and Adrian's brother who is flawed but tries to do good. Rounding out the cast is Burgess Meredith as Mick who owns the local gym and offers to be Rocky's manager. I actually had the pleasure of seeing the Rocky statue when I visited Ashley in Philadelphia and I also ran up the steps that Rocky ran up in this movie and part two. I really did not think I had it in me, granted, I started from the first step but I still felt very accomplished. What really adds to this already great movie is the soundtrack from Bill Conti which can always motivate me. This movie was a make or break for Stallone who was down and out when writing this even to the point of selling his dog. When the producers saw the script, they really liked it but wanted a more experienced actor for Rocky like Robert Redford, Ryan O'Neil, Burt Reynolds, or James Caan but Stallone was determined to play the title character where the producers gave in but for less money. This one one of those decisions that was the absolute right thing and this would go onto win an Oscar for Best Picture. All the actors really fit their roles. This has always been one of my favorites and am a big fan of the series with the exception of the 5th one which I say does not count and the lastest one made up for it. Shera also really enjoyed and seems to be ready for the sequel. This is available on Instant Netflix and Amazon Prime.