Welcome to the 475th Edition of my series. I hope everyone has a good holiday this year however one might celebrate. I also want to let know that my friend Ashley is visiting from Philadelphia and is playing a show at the Silo in Muncie from 8-9:30 so if you are in the area come out for some good music. I will get to my selections for the week.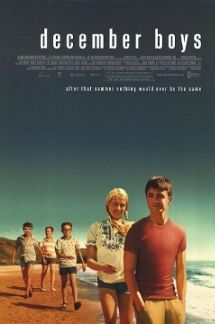 December Boys (2007): I start the week out with this Australian film and kind of a holiday film. Rod Hardy directed this film based on the novel by Michael Noonan. Daniel Radcliffe stars as Maps who is part of an orphanage and along with his three best friends, played by Lee Cormie, Christian Byers, and James Fraser, is sent to a vacation for a holiday by the sea. When there, they learn that a couple might be considering adoption where they each compete to get adopted and bringing a tension to themselves. Jack Thompson, Teresa Palmer, Sullivan Stapleton, Victoria Hill, Max Cullen, and many others co-star. I really thought this was a very well-written film with very good characters. With the scenery and the script, I will go so far as to call this a very beautiful film. I would love to live in a community like that where everyone is pretty friendly and nice weather. This is one that really deserves a look in my opinion and is a good coming-of-age film.
The Five-Year Engagement (2012): I follow-up with this romantic comedy which was directed by Nicholas Stoller and co-wrote it along with the star of the film Jason Segal. Jason Segal and Emily Blunt star as Tom Solomon and Violet Barnes who are a couple engaged to be married. They live in San Francisco where Tom is a respected chef and Violet is an experimental psychologist. Violet is offered grad school in Ann Arbor, Michigan where Tom supports her move sacrificing a job as head chef to support her. They also delay their wedding much to the dismay of the family. In Michigan, Violet is doing well in school but Tom has a hard time adjusting and cannot find the kind of work he does which makes him very frustrated. Chris Pratt, Allison Brie, David Paymer, Rhys Ifans, Mindy Kaling, Kevin Hart, Molly Shannon, Chris Parnell, and many others co-star in this comedy. This does take a good look at the trials of an engagement and relationship and how it can really change someone. There are some pretty funny moments in this film. I believe it could have been 90 minutes instead of the two hours but still a fun movie and decent romantic comedy.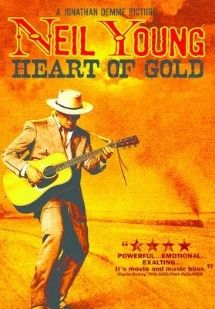 Neil Young: Heart of Gold (2006): Jonathan Demme directed this concert movie that was shot in Nashville over a period of a couple days for Neil Young and his band which includes Emmylou Harris. It mostly focuses on his songs from his album PRAIRIE WIND. It also focuses on some of his other songs like the one in the title. Demme does a great job bringing this concert to film and is a must for fans of Neil Young.
Popeye the Sailor (1933): This is my animated short for the week which features Popeye's first animated appearance. It is actually billed as a Betty Boop cartoon but really stars Popeye. This is mostly Popeye singing his signature song and does the hula with Betty and also fights Bluto in order to save his Olive Oyl from being tied to the railroad tracks in a strange way. This is a good intro to the famous sailor man and if nothing else is his and Betty Boop doing the hula. This can easily be found on Youtube.
An American Christmas Carol (1979): This is my tv movie for the week. Eric Till directed this variation of the Dickens classic where HAPPY DAYS alum Henry Winkler stars as Benedict Slade who is the equivalent of Ebenezer Scrooge and a very ruthless businessman during the depression era. On one Christmas Eve, he goes around confiscating things and is soon visited by the three ghosts who look to set him in the right direction. This is a pretty good adaption and tv movie. They do a good make-up job on Winkler so that he is older in the modern era and can play his younger self in flashbacks. Dorian Harewood, Susan Hogan, and R.H. Thomson co-star in this tv movie. This is a more overlooked version but one that deserves a look.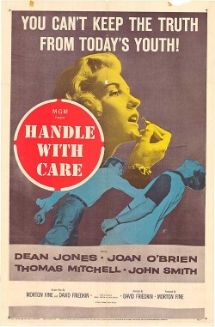 Handle With Care (1958): I found this b-list movie on TCM. This movie takes place in a small town law school where Dean Jones stars as law school student Zachary Davis. In the class, they plan a mock trial but Zach decides to take it in a different direction and do an actual investigation that might expose some local corruption. It does not sit well with most of the locals as he is an outsider. Thomas Mitchell co-stars as the town mayor who is Zach's main target in his investigation. This was not a bad lower budget movie from that era which kind of played out like a tv movie. I remember once being part of a mock trial years ago at a boy scout camp where I was recruited to be an unreliable witness and realized then when I was questioned by real-life attorneys that I never want to be in trouble with the law. This was a pretty good drama on a mock trial that becomes all to real to some.
I am Santa Claus (2014): This is my holiday documentary for the week which was directed by Tommy Avallone. This takes a look at the lives of professional Santas who absolutely live for what they do. It also takes a look at their lives and their anticipation for the season. One part of the movie is filmed in Santa Claus, Indiana which is south of where I live and are known for Holiday World. One of the Santas is openly gay and another is nearly homeless living with his daughter. It also focuses on wrestling legend Mick Foley who is known to have a year round obsession with Santa decides to try donning the outfit himself. This is a very fascinating film that show that these guys are human like everyone else but their passion for what they do really shows. This is a really good holiday documentary and made me think of myself with my capabilities of growing fairly long hair and a pretty big beard...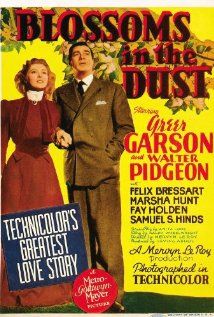 Blossoms in the Dust (1941): This has some holiday elements and opened my eyes some. Mervyn Leroy directed this film based on a true story. Greer Garson stars as Edna Gladney who hates to see children who are orphans and decides to open up an orphanage and help these children find good homes. Not stopping there, she also does not like the label children are given of "illegitimate" and the way they are judged just because they are born out of wedlock. Walter Pidgeon also co-stars in this film. This is a person who really set the stage for adoption. This is a very inspirational film which features a real-life woman who made it her mission to help orphaned children.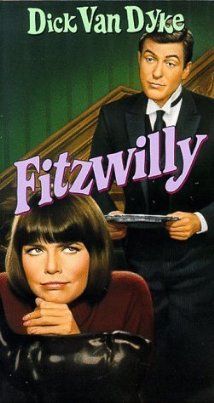 Fitzwilly (1967): This is another holiday comedy that I came across. Dick Van Dyke stars as Claude Fitzwilliam who works for Miss Vicki, played by Edith Evans, who is now broke after her father's death. Claude becomes a form of a Robin Hood when he leads a scheme to steal from the rich. Barbara Feldon co-stars as Juliet who has just been hired and starts to fall in love with Claude. She wants him to stop his ways but agrees to one last caper before their marriage. This is a very fun comedy with a good performance out of Van Dyke.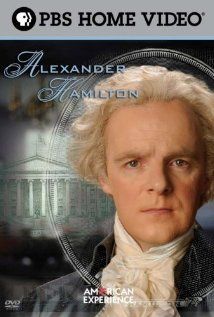 Alexander Hamilton (2007): I end this week with this historical documentary which is an episode from the PBS series AMERICAN EXPERIENCE. The first time I ever really heard of Alexander Hamilton was in the '90s when I was in middle school and they played a milk commercial where a guy who is clearly an expert towards Hamilton and has the opportunity to win a lot of money by answering the question "who shot Alexander Hamilton?" Unfortunately, he has a lot of food in his mouth at the time and when going for the milk, he realizes he has none and was not able to give a clear answer after time ran out. I would then go onto learn that he is on the $10 bill and that he was involved a lot with the treasury but watching this documentary, I learned that he was far more. This starts from his childhood where he was born out of wedlock which was a very difficult thing in those days. He would make the most of it and during the Revolutionary War, earned the respect of General George Washington. He would also become one of the founding fathers and help set the structure for our country financially. It also shows how he is very set in his ways and principles and had a lot of people not liking him including Thomas Jefferson, John Adams, and the more fateful one with Aaron Burr. This was very fascinating documentary of an idealistic man who helped his country make a lot of money but never really had any for himself. It also shows an honest man and one that was possibly a little too honest at times. After being in 1776, it got me more fascinated more for politics of this era and I might just start featuring these kinds of documentaries more often. The people on this documentary were some historians but some actors playing the people in Hamilton's life which was also rather interesting.
Well, that is it for this week. Tell me what you like and dislike and stay tuned for next week.