Welcome to the 477th Edition and my first installment of the year. I hope everyone is adjusting well to this new year. I also hope those with resolutions are doing well with them but if not just don't worry about it. I hope to have a good year this year and have never really had a "bad" year so I'm sure this will be no different. I can't think of anything else to ramble on about so I'll just get to the selections.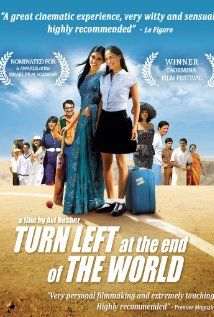 Turn Left at the End of the World (2004): I start the year out with this foreign selection which was written and directed by Avi Nesher. This takes place in a desert village in Southern Israel in the '60s. Two immigrant families move into this village where one is from Morocco and the other is from India. Both families have a hard time adjusting except that the daughters form a close friendship which is to the dismay of locals because of things like race difference. Some of this movie is a coming of age and another part of it is dealing with big change like movie to another country. This was a pretty well done film showing that prejudice can happen wherever one goes and the struggles that go along with it.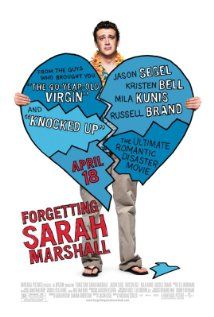 Forgetting Sarah Marshall (2008): This is part two of my two-part Kristen Bell series. I recall when I first heard about this movie, I was in Chicago with my mom when we were trying out for the first year of AMERICA'S GOT TALENT. There were billboards all over town that talked about how much they hate this girl named Sarah Marshall. I was pretty sure this was some sort of advertising and finally learned it was this movie. Nicholas Stoller wrote this movie which was written by Jason Segal who stars in this movie as Peter who has just broken up with his tv star girlfriend Sarah Marshall, played by Kristen Bell. He decides to get away and go to Hawaii unbeknownst to him that Sarah was there with her rock-star boyfriend Aldous, played by Russell Brand. Peter is still clearly very sad and meets hotel clerk Rachel, played by Mila Kunis, who he becomes friends with and slowly forms a relationship with her while trying to get over Sarah. Bill Hader, Jonah Hill, Paul Rudd, William Baldwin, Jason Bateman, Kristen Wiig, Gedde Wattanabe and many others co-star or have cameos in this comedy. Also to all you RENEGADE fans from the '90s out there, look for Branscombe Richard who was Bobby Sixkiller, in a small part. This was a pretty fun comedy that gave me a lot of laughs. There is also a very amusing musical involving Dracula. This is not exactly for the family but is a great one for the adults of both genders to watch together.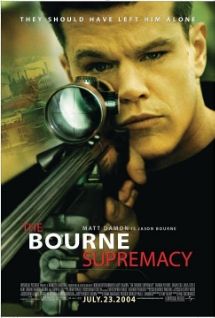 The Bourne Supremacy (2004): This is part one of a Matt Damon series that could go for about nine parts. This is the second part of the Bourne series where Damon reprises his role as the amnesiac Jason Bourne who is trying to start a new life with his girlfriend Marie, played by Franka Potente, but must go back to the life he tried to get away from when as assassination attempt on his life goes awry. He must look for why the CIA is still after him in this action packed film. Paul Greengrass directed this film based on the novel by Robert Ludlum. Brian Cox, Joan Allen, Julia Stiles, Karl Urban, Michelle Monaghan, and many others co-star in this action film. I thought this was a good sequel or continuation, not sure of the classification. There are some really good action scenes and really good performances. This is a good one for Guys Night.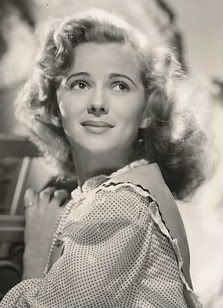 Spreadin' the Jam (1945): This is my musical short for the week about a woman short on her rent and about to be evicted. When her neighbors learn of this, they throw a rent party and everyone breaks out into song and dance. What a group of neighbors to come together like they did. This was rather amusing and worth the 10 minutes.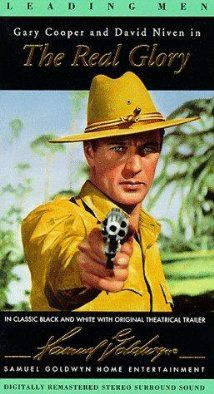 The Real Glory (1939): Henry Hathaway directed this film which is set against the backdrop of the Moro Rebellion. Gary Cooper stars as Lieutenant Canavan and part of the United States army in 1906 that were in the Philippines. They look to protect the natives from ruthless invaders. David Niven, Andrea Leeds, Reginald Owen, Broderick Crawford, and Kay Johnson co-star in this war drama. This is Gary Cooper's entry into that golden year of film and while it does not measure up to some, this still entertains very well with more good action and performances.
Ode to Billy Joe (1976): Max Baer Jr. directed this film which is inspired by the song by Bobbie Gentry. Glynnis O'Connor stars as small-town teenage girl Bobbie Lee Hartley. Robby Benson stars as the title character who professes his love to Bobbie Lee but is very difficult with many saying she is too young and a secret from Bobbie Lee. This really captures southern life very well in the '50s and O'Connor and Benson work very well together. Robby Benson is most known as the voice of the Beast in BEAUTY AND THE BEAST and was very good to see him in his younger days. Director Baer is most known as Jethro in THE BEVERLY HILLBILLIES and does a really good job behind this camera in this teenage love story but was much more.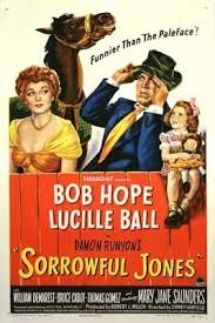 Sorrowful Jones (1949): This is part one of a two-part Bob Hope series. Bob Hope stars as the title character who is a New York bookie. When a bet goes wrong, he ends up with a little girl, played by Mary Jane Saunders, whose father never returns. Sorrowful now must care for the young girl in hopes her father will return and finds that having a child gets in the way of his free wheeling lifestyle. Lucille Ball co-stars as his ex-girlfriend and burlesque performer Gladys who is more of a parental figure. In the process, he also must evade crooked gangsters. I liked this comedy on unexpected parenting. William Demarest, Bruce Cabot, and Thomas Gomez star in this film. It is a remake of the Shirley Temple movie LITTLE MISS MARKER. I felt like the three main people worked well together and was a pretty likable Bob Hope vehicle.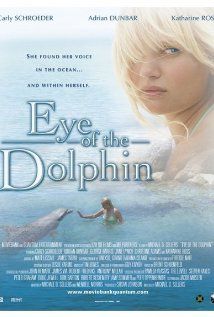 Eye of the Dolphin (2006): Michael D. Sellers directed and co-wrote this movie. Carly Schroeder stars as Alyssa who is a teenage girl whose mother dies and even after a year has not adjusted to her death. When she is suspended from her school, her grandmother Lucy, played by Katherine Ross, decides to take her to the Bahamas to meet her father James, played by Adrian Dunbar, who Alyssa has been told was dead. James is an independent dolphin researcher and has no idea that he has a daughter. He is also in danger of losing his research facility to a tourist attraction which he does not feel is right. Alyssa and James slowly form a connection and Alyssa learns to communicate with the dolphins and tries to help him stop a tourist attraction from happening. GLEE co-star Jane Lynch co-stars as the main person looking to get the tourist attraction. This is a decent family movie that was a bit predictable but to be expected in this type of movie. It is family oriented towards maybe older kids as it does depict struggles of a teenage girl. Animal lovers and environmentalists will really like this one. This is available on Instant Netflix.
Giant (1956): George Stevens directs this epic taking place in Texas and dealing with family strife, greed, and prejudice. Rock Hudson stars as Jordan Benedict who goes by the name Bick. He is a Texas rancher who goes to Maryland to purchase a prized horse and in the process meets Leslie, played by Elizabeth Taylor, and marries her. Through the years, they have children and the marriage has a lot of ups and downs with Bick's need to be in charge of everything. James Dean in his last movie plays Jett Rink who is at first a ranch hand and later an oil tycoon who becomes the main rival of Bick. A young Dennis Hopper plays Bick and Leslie's son Jordan who is expected to take over the family business but wants to pursue a different life much to the dismay of his father. He also must deal with a lot of prejudice when marrying a Mexican woman. Carroll Baker, Jane Withers, Mercedes McCambridge, Sal Mineo, Rod Taylor, Chill Wills, and many others co-star in this film. I have always said this is my favorite of James Dean's big three. What I really liked is how Rock Hudson starts out as rather unlikable and James Dean is the one to feel sorry for and it changes slowly throughout the movie. I also thought they did a really good job of aging Hudson and Taylor at their young ages at the tie. James Dean is from a town less than an hour from where I live and at one point had a museum but have heard that got closed. They do still have an annual festival where people from around the nation come for with the showing of the older cars.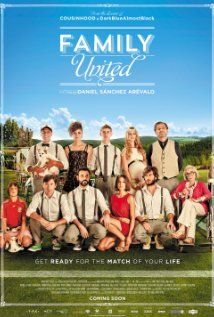 Family United (2013): I end with this Spanish comedy which was chosen on my number method where I came up with a list of titles from this particular year and that I got from Netflix and HBO On-Demand and asked my friend Shera for a number where this was a result. Daniel Sanchez Arevalo wrote and directed this comedy of a family reuniting for the wedding and is around the time of the World Cup final. The beginning of this movie shows the patriarch of the family when he was with their mom and their love for the movie SEVEN BRIDES FOR SEVEN BROTHERS where they tried to do the same routine with their children but stopped at five when the mother leaves the family. Years later, they all have their own lives where the youngest is to get married and are all together in the end to deal with the joy, sorrow, and struggles of a family. This had some very well written characters dealing with everyday struggles. It looks like this is no longer on HBO On-Demand so I'm not sure how obtainable this one is but if you like the foreign cinema this would be a good watch.
Well, that is it for this week. Tell me what you like and dislike and stay tuned for next week which so far includes more Matt Damon, Tom Hanks, Lynn Redgrave, Pierce Brosnan, and many others.