Welcome to the 479th Edition of my series. Not a lot of new things are going on so I won't say a lot on this opening paragraph. I know there is a lot of talk now on the Academy Awards and towards those people feel were snubbed and those who they thought deserved. I take it as a very subjective and try not to get real worked up about it. This is the time of year though where I hit the movie theaters more often so I may include some nominees very soon. I will now get onto my selections for the week.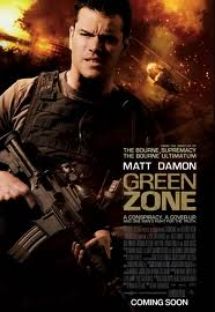 Green Zone (2010): This is part 3 of my Matt Damon series. Paul Greengrass directed this film that takes place around the beginning of the invasion of Iraq. Damon stars as Chief Warrant Officer Roy Miller who is charged with finding the weapons of mass destruction but becomes very suspicious of the intelligence he has received and teams up with Wall Street reporter Lawrie Dayne, played by Amy Ryan, to uncover the truth. Greg Kinnear, Brendan Gleeson, Jason Isaacs, Igal Naor, and many other co-star in this film. Kinnear was good in a rather villainous role and Damon also did a really good job. This was quite thought provoking and fast paced at the same time. This is based on the book IMPERIAL LIFE IN THE EMERALD CITY by journalist Rajiv Chandrasekaran. Much of the soldiers in the film are actual soldiers. This was pretty well done and worth a look.
In the Name of the Father (1993): Jim Sheridan directed this film based on the autobiography of Gerry Conlon called PROVEN INNOCENT. Daniel Day-Lewis stars as Conlon who is a small-time thief in Belfast becomes implicated for a bombing that he did not commit along with his friends and even his father, played by Pete Postlewaite. He is forced to confess which puts him in prison along with his dad. They had been rather distant with each other through the years but start to become closer in prison where Gerry forms a new admiration for his dad. Emma Thompson stars as British attorney Gareth Peirce who does everything possible to prove their innocence. Saffron Burrows, Corin Redgrave, and Tom Wilkinson all have parts in this film. This was a very powerful and moving film. With the title of the book, I think you can all predict how it ends but it is very compelling to see how it all unfolds. Day-Lewis and Postlewaite work well together.
Top of the Lake (2013): This is my BBC mini-series for the week. This starts with a 12 year old girl named Tui, played Jaqueline Joe, who is pregnant and tries to kill herself. She is stopped before it happens and detective Robin Griffin, played by Elizabeth Moss, investigates what has happened which finds her deep in small town secrets and in some ways reliving her past. Thomas Wright, Peter Mullan, David Wenham, Holly Hunter, XENA alum Lucy Lawless, and many others co-star in this mini-series. This is a rather dark series at times but is also very compelling. It also has some beautiful scenery, well-written characters, and good performances. This is available on Instant Netflix.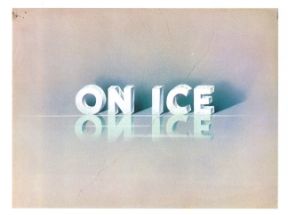 On Ice (1935): This is my animated short and have one from Disney for the week. This had multiple situations like Mickey Mouse teaching Minnie how to ice skate. It also shows Goofy doing some interesting ice fishing and Donald Duck strapping skates to Pluto and laughs at him when doing so. This leads to a climax between Mickey and Donald. This had quite a bit of action for 8 minutes and packed in the to characters very well.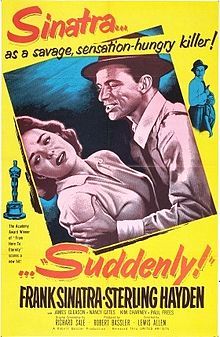 Suddenly (1954): This is one of the movies my dad got me which was a Film Noir boxed set. This takes place in a small town where the president is expected to visit. Frank Sinatra stars as John Baron who is in town along with two others with the intent on assassinating the president. They find the place to commit the act is at the home of the Bensons which consists of a mother named Ellen, played by Nancy Gates, her son Pidge, played by Kim Charney, and her father in law, played by James Gleason. It starts out with these people and with Ellen being against guns because of her husband dying in the war. Sterling Hayden co-stars as Sheriff Tod Shaw who has feelings for Ellen but she still is not over her husband dying. He tries to point out to her that guns can be beneficial. They are all present at the home when Baron takes the home hostage. This has a great tension to it and has an interesting pro-gun message to it. Sinatra does a great job as a villain who has no compassion whatsoever. I also liked Sterling Hayden in his more toned down role. As I look further into this, it is said that Lee Harvey Oswald viewed this movie days before he killed Kennedy. This is available on Instant Netflix and on the public domain so is probably easily obtainable.
La Cage Aux Folles (1978): This is my French film for the week which is based on the play by Jean Poiret. Ugo Tognazzi plays Georges who owns the nightclub of the title. His son has announced his marriage and his future in-laws want to meet his family but is in a complicated situation. His father is gay and has a lover named Albin, played by Michel Serrault, who is a drag queen so he asks his father to play it straight for his future in-laws. Georges agrees to go along but finds it very difficult among those around him leading into a lot of comical situations. There is a musical version but this is not the musical but still pretty well done. This would years later be remade into the 1996 comedy THE BIRDCAGE which stars Robin Williams.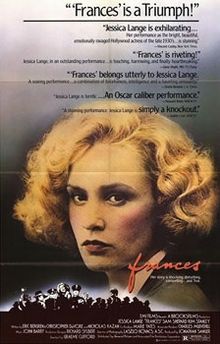 Frances (1982): Graeme Clifford directed this film on Hollywood. Jessica Lange stars as real-life '30s actress Frances Farmer made it pretty big but never held back on her opinions and has a hard tie especially after her domineering mother Lillian, played by Kim Stanley, has her committed to an asylum. Sam Sheperd co-stars as her loyal friend Harry York. Anjelica Huston and Kevin Costner have early bit roles. There is not a lot to say but is a very compelling look at the dark side of Hollywood in this era. Lange plays the part of Frances to perfection.
A Dog of Flanders (1959): This is one of those boy and his dog stories that I admit I can be a sucker for at times and this one became no different. Donald Crisp and David Ladd star as Jehan and Nello Daas who are grandfather and grandson. They are poor but very kind and hardworking. They make ends meet by selling milk locally. Nello dreams of becoming and artist and makes the most of what he has in order to create art. Theodore Bikel co-stars as local artist Piet who starts to mentor Nello but things become difficult when he dies. I guess I have gone on without going into the dog part. Nello finds a dog that has been left for dead and clearly abused so they take him into their loving home. This is a very touching and emotional story where I usually manage to shed tears and this was no different. This is a really good one for the family to watch and could have a really good double feature with OLD YELLER.
Murder by Decree (1979): Bob Clark directed this movie based on the characters by Sir Arthur Conan Doyle. Christopher Plummer and James Mason star as Sherlock Holmes and Dr. James Watson investigate murders done by Jack the Ripper and find quite the conspiracy in order to protect the Ripper. They do a good job of tying historical fact into the fictional detectives. It is also one of the first times where Watson was more of a partner than the bumbling sidekick which would become even more emphasized years later with Jude Law in the role. David Hemings, Susan Clark, Anthony Quayle, John Gielgud, Frank Finlay, and Donald Sutherland co-star in this Homes tale. Plummer and Mason are a very good combination and is a really good Gothic tale. This is available on Instant Netflix and really is worth a look.
Infernal Affairs (2002): I end the week with this Hong Kong film that would be the inspiration to Scorsese's 2006 film THE DEPARTED. Alan Mak directed and co-wrote this action film. Tony Leung stars as Chen Wing Yan who starts out as a young police officer who is sent as a mole to infiltrate the mafia referred to as the Triads and his assignment becomes a lot longer than was ever intended. Andy Lau stars as Inspector Lau Kin Ming who is a member of the Triad and sent to go undercover in the police force. It takes them through years where their jobs are clearly taking a toll. This tells a really good story and has very good performances. The American remake is pretty good but credit must be given where it is due. I also really liked the way it ended. This is available on Instant Netflix.
Well, that is it for this week. Tell me what you like and dislike and stay tuned for next week which so far includes more Matt Damon, Helen Mirren, and many others.