Welcome to the 485th Edition of my series. Friday and Saturday is when we put on I'M GETTING MURDERED IN THE MORNING at the Amvets in Muncie. For tickets call 765-287-9054 and they are $20 which includes dinner and a show. It will be a very funny show with a very hard-working cast so please come out if you can. That is all I really have to say for right now so I'll get on with the selections.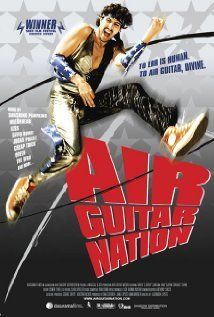 Air Guitar Nation (2006): I start the week out with this documentary. This features the world of air guitar which has really become very popular. This documentary shows how it became introduced in the United States when it has already become popular across the world. This features the first U.S. championship where the winner competes in a world tournament in Finland where air guitar is very popular. I always enjoy these kinds of documentaries and seeing the passion for an unusual hobby like this one. The people featured in the documentary were very interesting and dedicated to air guitar and is very enjoyable if you can get past them not playing guitar.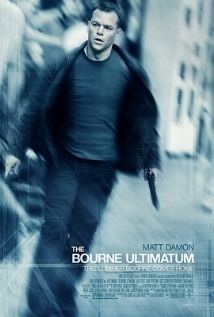 The Bourne Ultimatum (2007): This is part 9 of my Matt Damon series. Paul Greengrass directed the third in the Bourne series where Damon reprises his part as Jason Bourne. In this one, he learns more on the origins on his life as a trained killer. He must also dodge a ruthless CIA agent, played by David Strathairn, and a new assassination program. Julia Stiles, Joan Allen, Scott Glenn, Paddy Considine, Edgar Ramirez, Albert Finney, Daniel Bruhl, and many others co-star in this film. This was a really good one in going into his past and it also has some really good action. It goes along very well with the first two. It also has a thrilling climax. This is worth a watch if you like the other two.
Henry Ford (2013): This is my second documentary for the week and is an episode from AMERICAN EXPERIENCE. Oliver Platt narrates this documentary on the man who made the first cars that were affordable to the middle class and was very influential in things like wages paid to workers. This shows him as a very influential innovator but also his dark side where he did not have the greatest relationship with his son. After the Ford Model T, Ford was content with what he had and was dismayed when more was done. This is a really informative documentary of someone I learned I knew very little about. This is available on Instant Netflix.
Army Champions (1941): This is my short film for the week which is one of the Pete Smith Specialty shorts. This goes into the training part of the army where they are training for things like shooting and learning speed, teamwork, and accuracy. It pretty much says that physical training that athletes got in high school will prepare them for war. This is one of the many military propaganda shorts from this era. It is rather amusing to watch and took place before Pearl Harbor.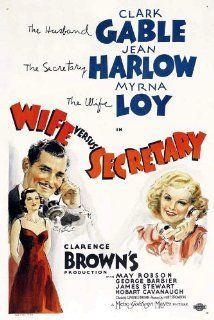 Wife vs. Secretary (1936): This is part two of my two-part Clark Gable series. Clark Gable stars as publishing executive Van whose wife Linda, played by Myrna Loy, believes that the relationship with his secretary Whitey, played by Jean Harlow is more than a professional one. This leads to all kinds of misunderstandings and even Van's mom warns Linda of how her own husband philandered during marriage and Van would eventually succumb to temptation if not careful. This was a pretty funny romantic comedy with the leads doing a great job. A young James Stewart also co-stars as Whitey's boyfriend and has a good early supporting role. This was probably a bit racy for its time and is worth a look to see two of the top actresses at the time going at it.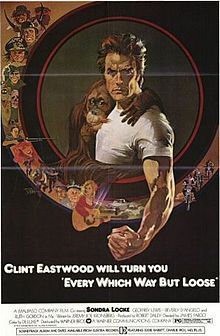 Every Which Way But Loose (1978): This is part one of a two-part Clint Eastwood series. Eastwood stars as Philo who is a trucker and fist-fighter who meets a country singer named Lynn, played by Sondra Locke, and takes a liking to her but she gives him the brush off. He already is in some trouble for a bar fight so along with his friend and fight promoter friend Orville, played by Geoffrey Lewis, his beer drinking orangutan Clyde, and a girl named Echo, played by Beverley D'Angelo, they go on a road trip hoping to meet up with Lynn. They must evade a biker gang and a couple bumbling cops along the way. Ruth Gordon is very amusing as Ma. This is not Eastwood's best work but is a very fun watch and was his first comedic film.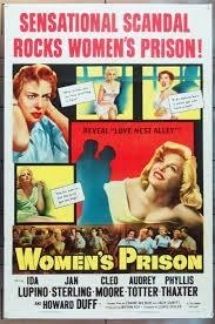 Women's Prison (1955): I found this in a Bad Girls Film Noir boxed set and took interest at this title. Usually when I think of this title, I think Roger Corman, Pam Grier, and exploitation at its finest but this one was different. Jan Sterling stars as Brenda who is a good person and made a very bad mistake to get into the prison. She must learn survival but does not help that the warden Amelia, played by Ida Lupino is very sadistic. Howard Duff co-stars as Dr. Crane who tries to help the inmates and expose Amelia's corruption. This is nothing great but it did keep my interests. More of a drama than other women's prison movies.
Sweeney Todd (2006): David Moore directed this BBC adaptation of the murderous barber. Ray Winstone plays the 18th century barber who was at one timed wronged and is taking his revenge out on everyone at London by cutting the throats of unsuspecting clients while giving a shave. He soon meets Mrs. Lovett, played by Essie Davis, who owns the local meat pie shop and reluctantly agrees to form an unusual partnership with Sweeney. This does not have the music numbers but is still pretty well-written with good characters. In the times of violence, they do not hold back. David Warner, David Bradley, and Tom Hardy all co-star It is a rather atmospheric and disturbing to watch. I liked the element of Sweeney's father in this one that the musical does not feature. I usually prefer the musical version which I once had the pleasure to be in but still enjoyed this version.
One Million Years B.C. (1966): This might be the guilty pleasure selection for the week. Don Chaffey directed this caveman movie movie which stars John Richardson as Tumak who has been banished from his savage tribe. He comes upon a far more friendly tribe which also seems to have more hot women including Loana, played by the bikini-clad Raquel Welch. These two form a relationship and decide to go out on their own and must battle many creatures like dinosaurs and even a huge turtle. It also has a really good climax involving a volcano. Percy Herbert, Robert Brown, and Martine Beswick co-star in this movie. The two highlights are Raquel Welch and the special effects by the legendary Ray Harryhausen. There was no real dialogue and no subtitles for the caveman language. There is never a dull moment in this prehistoric film.
Our Song (2000): I end with this independent film which was written and directed by Jim McKay. This takes place in an urban school and centers around three friends and members of the real-life Jackie Robinson Steppers Marching Band, played by Kerry Washington, Anna Simpson, and Melissa Martinez and dealing with their last year of high school and the school being closed for asbestos. This has a lot of topics but the main point is the difficulty of maintaining friendships. This is a pretty decent movie which was driven a lot by the authentic characters. Kerry Washington makes her film debut and also has some really good band footage. This is available on Instant Netflix.
Well, that is it for this week. Tell me what you like and dislike and stay tuned for next week which so far includes Kirsten Dunst, more Matt Damon, Channing Tatum, more Clint Eastwood, and many others.