Welcome to the 490th Edition of my series. We get started with April and the weather is getting better so I am happy about that. I also just noticed I'm 10 away from the 500th Edition. Not a lot of other things going on at the moment so I'll just get to my selections.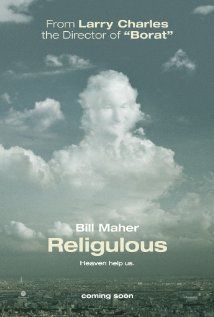 Religulous (2008): I start the week this controversial documentary which will make some laugh and offend others. Larry Charles directed this documentary where Bill Maher takes a look at the world of religion and questions the beliefs of many Muslims, Jews, and Christians. He goes to some very interesting places like a Truckers' Chapel, the Creationist Museum, a theme park called Holy Land, and many others. He also finds unlikely believers and unlikely skeptics. There is also a scene which talks about the religion on Scientology and their rather strange beliefs. It also takes a look places which express more hate than love like the Westboro Baptist Church. Maher takes the approach of "I don't know" when it comes to religion and is very entertaining in his questioning of religion. If you don't offend easy, this is a very good watch.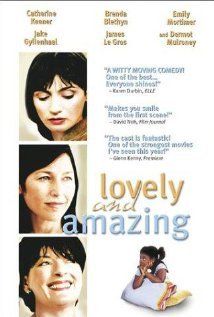 Lovely and Amazing (2001): Nicole Holofcener wrote and directed this movie that centers around a mother and her three daughters. Brenda Blethyn stars as Jane who is the matriarch of the family and is having surgery in order to lose weight but complications happen endangering her life. Catherine Keener co-stars as the oldest daughter Michelle who is trying to make a living by selling her art but finds that is very difficult and her supportive husband Bill, played by Clark Gregg, does not make things difficult. The middle child Elizabeth, played by Emily Mortimer, is a struggling actress who also loves taking in stray dogs. The third daughter Annie, played by Raven Goodman, is a black child and adopted by Jane and she also struggles to fit into I guess a white world even to the point of asking her mother for white skin. All of them have their complications which really cloud their judgement. James Le Gros, Michael Nouri, Dermot Mulroney, and many others co-star in this comedy/drama. This takes a very good look at relationships among family and of other people in their lives. This is more of a character driven film and has some good performances.
Of Mice and Men (1992): Gary Sinise directed this adaptation of the classic novel from John Steinbeck and stars as George during the great depression. George and his strong but slow-witted friend Lennie, played by John Malkovich, are trying to make a better life for themselves but can never hold down work due to Lennie always doing something wrong. They find a new place of work but find it is not easy due to Curley, played by Casey Siemaszko, who is the son of the boss and takes advantage of Lennie. Sherilyn Fenn co-stars as Curley's wife and with him not giving her much attention, she tries to talk to the other guys around her including Lennie who has a weakness for women. Ray Walston, Alexis Arquette, John Terry, Richard Riehle, Joe Morton, Noble Willingham, Mark Boone Junior, and many others co-star in this film. I had seen the 1939 version of this movie and I find this one to be every bit as good with the acting, direction, and cinematography. I have always favored this story to Steinbeck's other classic novel THE GRAPES OF WRATH. This is a really good portrait of this era with Malkovich and Sinise being a great combination. I would love to do a theatrical version of this one.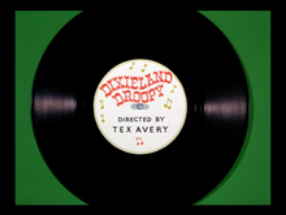 Dixieland Droopy (1954): This is my animated short that features the most famous basset hound Droopy but is a jazz singer named John Pettybone which show his struggles to make it in the misunderstood world of jazz music. There is also a really good group of fleas who make some good magicians. This is a very clever animated short and is really worth a look, especially those who like classic animation.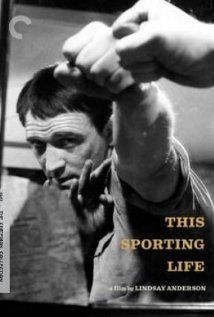 This Sporting Life (1963): This is my British film for the week. Lindsay Anderson directed this film based on the novel by David Storey. Richard Harris stars as Frank Machin who works as a coal miner in Yorkshire. He gets into an altercation with a captain of a rugby team which impresses the owner enough to sign him to the local rugby club and ends up impressing people with his very aggressive play. Off the field, Frank's landlady Margaret, played by Rachel Roberts, is a widow with two children and he forms a relationship with her but one that is pretty destructive. This is not an upbeat or inspirational film and is good to see something show the sport of rugby. This is a very honest character study where Harris has his first starring role and does very good. Harris is most known as a singing King Arthur and the first Dumbledore and this is a very good early look.
Little Women (1933): I have another classic literature adaptation for the week and this one is from the novel by Louisa May Alcott. George Cukor directed this film of women surviving during the civil war when the family patriarch is away as the minister for the troops. Spring Byington stars as Marmee who is the matriarch for the March family. Katherine Hepburn co-stars as Jo who is one of the daughters and is the character the most centered around. She is very outgoing and aspires to be a writer. Joan Bennett, Jean Parker, and Frances Dee co-star as the other three daughters. Paul Lukas, Edna May Oliver, Henry Stephenson, Douglass Montgomery all co-star. This is a really good, early film for Hepburn and the rest do a good job as well. This is a really good story about a poor but very loving family making the most of life.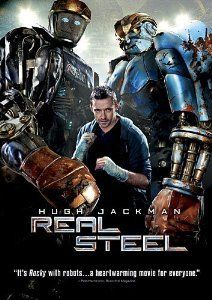 Real Steel (2011): This is my futuristic film of the week which was directed by Shawn Levy. This takes place in a future world where robot boxing is the big thing. Hugh Jackman stars as Charlie who is a struggling promoter and in debt to a lot of people. He learns that his ex has died leaving a son named Max, played by Dakota Goyo. The mother's sister is wanting to take him in but Charlie decides to get money from the wealthy family and buy a new robot then turn over Max to them. He does get his son for the summer and takes his own interest in the robot boxing. When Max finds a robot in the junkyard named Atom, he decides to build it up for the new championships much to the reluctance of his father. Evangeline Lilly, Anthony Mackie, Kevin Durand, Hope Davis, James Rebhorn, Phil Lamarr, and many others co-star in this film. This is a futuristic film that is not so bleak and is pretty fun and moving. Jackman and Goyo worked very well together as a father and son trying to reconnect. It also had some very good robot animation.
The Detective (1968): Gordon Douglas directed this police drama based on the novel by Roderick Thorp. Rat Pack alum Frank Sinatra stars as Detective Joe Leland who is investigating the murder of a homosexual man. In his investigation, he uncovers a web of police corruption and delves into sex and drugs. He is also dealing with marital issues during this investigation. Lee Remick, Ralph Meeker, Jack Klugman, Al Freeman Jr., Robert Duvall, Jacqueline Bisset, and many others co-star in this gritty cop drama. Sinatra does a really good job in a more serious, non-singing role as the troubled but incorruptible detective. This is available on HBO On-Demand unless it has expired.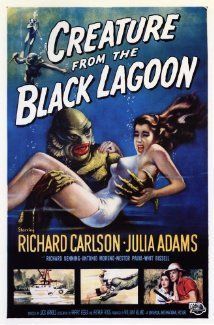 The Creature from the Black Lagoon (1954): I decided to bring some Universal Horror into this one. A group of scientists are exploring in an Amazonian jungle where they encounter a mysterious gill-man creature in the black lagoon. They set out to capture this creature but when they do, the creature kidnaps Kay, played by Julie Adams, who is the fiancee of one of the explorers and whom the creature falls in love. I always say the creature is the tragic hero. People come to his homeland and their first thought is to capture him so yes he is going to fight back. This is one of the Universal classics and this one is available on Instant Netflix.
Locke (2013): I end with this British film from Steven Locke. Tom Hardy stars as Ivan Locke who has a lot going on in his life with work and family. He learns of a life changing moment and decides to drive from Birmingham to London. This is filmed with Hardy in his car going to this place and along the way must talk to his people at work, his wife, and children. Locke is the only actor to appear on screen while others provide voices coming from his speaker phone. For the way it was filmed, they made the most of making this movie where he is in his car on the phone all day into a pretty compelling film. Hardy does a very good job carrying the movie and for those who do not recognize this person, it is the same guy who plays Bane in THE DARK KNIGHT RISES. This is available to watch on Amazon Prime.
Well, that is it for this week but I did bring back my Fun and Useless Facts segment so there is more to read. Tell me what you like and dislike and stay tuned for next week which so far includes Robert De Niro, Jim Broadbent, and many others.
FUN AND USELESS FACTS
I brought this segment back but I'm sure there are plenty I am missing so feel free to comment on others you might find.
Catherine Keener (Lovely and Amazing) manages to go into the portal of the brain of John Malkovich (Of Mice and Men) in the 1999 film BEING JOHN MALKOVICH which is one of my favorites.
Clark Gregg (Lovely and Amazing) and Gary Sinise (Of Mice and Men) were in the 2003 film THE HUMAN STAIN.
Clark Gregg (Lovely and Amazing) and Dakota Goyo (Real Steel) were in the 2011 film THOR.
Jake Gyllenhaal (Lovely and Amazing) and Hugh Jackman (Real Steel) were in the 2013 film PRISONERS.
Jake Gyllenhaal (Lovely and Amazing) plays the part of Hal in the 2005 film PROOF. My Facebook fried Ryan played the part years ago in a version at the Muncie Civic Studio Theater. My Facebook friend Jim played the part last year at the Epilogue Players in Indianapolis.
Jake Gyllenhaal (Lovely and Amazing) and John Terry (Of Mice and Men) were in the 2007 film ZODIAC.
Jake Gyllenhaal (Lovely and Amazing) and Noble Willingham (Of Mice and Men) were in the 1991 comedy CITY SLICKERS.
James Le Gros (Lovely and Amazing) and James Rebhorn (Real Steel) were in the 2002 film SCOTLAND, PA.
James Le Gros (Lovely and Amazing) and Hope Davis (Real Steel) were in the 2011 mini-series MILDRED PIERCE.
Brenda Blethyn (Lovely and Amazing) and John Malkovich (Of Mice of Men) were in the 1999 tv movie RKO 281.
Dermot Mulroney (Lovely and Amazing) and Casey Siemaszko (Of Mice and Men) were in the 1988 film YOUNG GUNS.
Dermot Mulroney (Lovely and Amazing) and Hope Davis (Real Steel) were in the 2002 film ABOUT SCHMIDT.
Dermot Mulroney (Lovely and Amazing) provided the voice for the Green Lantern Hal Jordan for a few episodes of THE BATMAN. Phil Lamarr (Real Steel) provided the voice of Green Lantern John Stewart in the animated series JUSTICE LEAGUE.
John Malkovich (Of Mice and Men) plays Javert in the 2002 mini-series LES MISERABLES and Hugh Jackman (Real Steel) plays the the fugitive Javert pursues in Jean Valjean in 2012 musical LES MISERABLES.
John Malkovich (Of Mice and Men) plays Tom Wingfield in the 1987 film THE GLASS MENAGERIE. Katherine Hepburn (Little Women) plays Tom's mother in the 1973 film THE GLASS MENAGERIE.
John Malkovich (Of Mice and Men), Richard Riehle (Of Mice and Men), and James Rebhorn (Real Steel) were in the 1991 film SHADOWS AND FOG.
John Malkovich plays Lennie in this week's feature OF MICE AND MEN. My Facebook friend Sam played the part years ago in a production in Indianapolis.
John Terry (Of Mice and Men) and Evangeline Lilly (Real Steel) were in the tv series LOST where Lilly was a regular and Terry was a recurring character.
Alexis Arquette (Of Mice and Men) and Phil Lamarr (Real Steel) were in the 1994 film PULP FICTION.
Frank Sinatra (The Detective) played Nathan Detroit in the 1955 film GUYS AND DOLLS. My Facebook friend Mark played the part in a 2010 production at the Belfry Theatre where I played Harry the Horse in my debut in that theater.