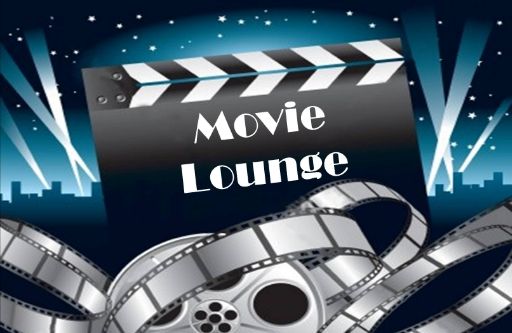 Welcome to the 499th Edition of my series. Next week I hit that milestone of 500 and I say wow all the time when I think about how long I have been doing this. Years ago, I had a vision to write a Myspace blog that would accommodate to just about anyone and as a movie person figured that would be the way to go. However, I know I cannot write a detailed review so the idea popped into me to do recommendations where I write a paragraph or so about 10 diverse movies and have been doing it every week since that time. I started out on Myspace, brought over to Facebook, written for Film Arcade, and now have my own site that I promote on Twitter. I have also declined offers from websites who want me to change my format and make it more thematic. Granted, if money was offered, I might sell out but until then I will make diversity my theme. Next week will have a small theme that I will reveal next week. Through the years, I have done all documentaries, all foreign films, and all musicals while still keeping it diverse which will be the same for next week with a different one. It has been a great journey and I thank everyone from old to new that has supported me. I will now get to the recommendations.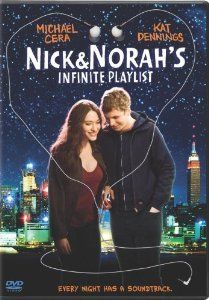 Nick and Norah's Infinite Playlist (2008): Peter Sollett directed this comedy based on the novel by Rachel Cohn and David Levithan. ARRESTED DEVELOPMENT alum Michael Cera stars as Nick who is a member of a band called the Jerk Offs and has broken up with his girlfriend Tris, played by Alexis Dziena, who moves on pretty fast. 2 BROKE GIRLS star Kat Dennings stars as Norah who plays the part of designated driver for her friend Caroline, played by Ari Graynor. She also finds cds that Nick makes for Tris and likes hist taste in music. They meet up in order to find a local band but turns into the search for Caroline among other mishaps. John Cho. Andy Samberg, Seth Meyers, and Eddie Kaye Thomas all have amusic cameos. This is an homage to local bands. There was some gross-out humor involving gum that I was not big on but got past it with all the other comedic moments.
Zodiac (2007): David Fincher directed this film based on the search for the Zodiac Killer in San Francisco and based on the book by Robert Graysmith. Jake Gyllenhaal stars as Graysmith who was a political cartoonist for the San Francisco Chronicle in the late 60s. He became obsessed with decoding the letters of who would be known as the Zodiac killer. Robert Downey Jr. co-stars as Paul Avery who was kind of Graysmith's mentor but his drinking problems makes his life spiral out of control. Mark Ruffalo co-stars as Inspector David Toschi who has had a lot of trouble catching the killer. Anthony Edwards, Brian Cox, John Carroll Lynch, Richmond Arquette, John Terry, Elias Koteas, Chloe Sevigny, Dermot Mulroney, Donal Logue, Philip Baker Hall, Zach Grenier, Adam Goldberg, Clea Duvall, and many others co-star in this film. This focuses a lot on Graysmith's life and the toll his investigation took on his family life and professional life. It is a good look at the investigation and has scenes where the Zodiac strikes. The Zodiac case was closed until this movie came out and it was reopened.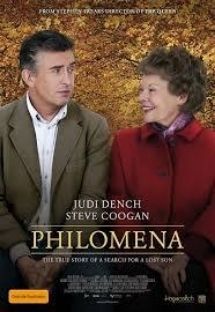 Philomena (2013): Stephen Frears directed this film based on the book THE LOST CHILD OF PHILOMENA LEE by Martin Sixsmith which is based on a true story. Steve Coogan, who also co-wrote the screenplay, stars as Sixsmith who had a great job as a political journalist but lost. Looking for a good story, he learns about Philomena Lee who had a son that was taken away from her while living in a convent. Judi Dench stars as Philomena who is looking to find the son that was taken from her. In their search for their son, they also form a bond between themselves. I don't want to give anything away but this is a pretty moving film and very eye-opening with some good messages within it.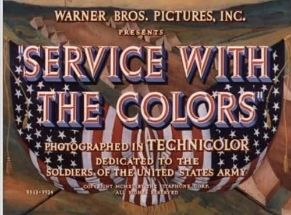 Service with the Colors (1942): This is my short film for the week which is mostly a war propaganda short. This focuses on recruits from different backgrounds including Charles Corbin, played by William Orr, who has trouble adapting to the military and at one point considers deserting. He soon puts his life on the line and helps save many of his friends making up for the other things. Not a bad feel good story.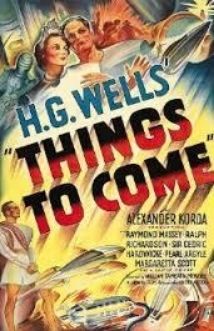 Things to Come (1936): I recorded this adaptation to the H.G. Wells novel in which he co-wrote the screenplay. William Cameron Menzies directed this sci-fi film which spans from 1940 to 2035. It starts with a global war that goes on for many years until the few still alive do not know why it was started and why. In 1966, a plague wipes out most people but a few survive. After that, reconstruction takes place through the years to the point of space travel. Raymond Massey, Ralph Richardson, Margaretta Scott, Cedric Hardwicke, and many others co-star in this film. I didn't feel the movie really had a star except for the progress through the years. It predicted the usage of large format, flat screen jumbo tron style LCD tv screens. I really prefer H.G. Wells's THE TIME MACHINE but I had not heard of this and is a pretty good sci-fi entry from this time period that deserves a look if you can get a copy.
Summer of '42 (1971): This is my coming-of-age film for the week which was directed by Robert Mulligan which is based on a story by Herman Raucher which this story is based upon. Gary Grimes stars as they teenage Hermie who along with his friends Oscy, played by Jerry Houser, and Benjie, played by Oliver Conant, are living on an island with their parents in the year of 1942. While all Oscy really wants is to get laid, Hermie forms a love toward the older Dorothy, played by Jennifer O'Neill, and shyly approaches here. This is a pretty moving story and I guess I would relate more to Hermie than the other friends. This is based on the story by Raucher which might have been changed but is based on real events. I found this when searching for things at the library which I had not heard of and now hope to get it on the radar some.
Machine Gun Preacher (2011): Marc Forster directed this film based on a true story. Gerard Butler stars as Sam Childers who is a bike gang member and drug addict who has just gotten out of prison. When he returns home, he learns his wife Lynn, played by Michelle Monaghan, is no longer a stripper and has turned to Christianity. He does not like that at first but after he returns to his old life to realize he did wrong, he joins her. He decides to take on a mission to Africa. When there, he witnesses the oppression like with children being forced to become soldiers and becomes a crusader. Kathy Baker, Michael Shannon, and Madeline Carroll co-star in this film. This is an eye-opening film of a man who saw wrong and decided to try to do something about it. Butler does a great job as Childers. This is available on Instant Netflix.
Charulata (1964): This is my Indian film for the week. Not sure if it qualifies as Bollywood but it is from Inda. Satyajit Ray directed this film which centers around a lonely housewife of the title name whose husband Bhupati is a very liberal news editor and focuses most of his time on the paper. When Bhupati notices his wife's loneliness, he asks his cousin Amal to keep Charu company. They start out as friends and trying to help each other with Amal's writing. As it progresses, they become closer where Charu must make a decision. This is a really good foreign film and easy to follow with good performances and direction from who my be the best director in India. Like any India movie, they work in a little musical number but still a very enjoyable film especially for foreign buffs.
The Giant Behemoth (1959): This is my creature feature for the week. In the way of Godzilla, there are a lot of marine atomic tests that result in blobs of radiation and the resurrection in a dormant dinosaur that wreaks havoc on England. Everyone in the town must band together in order to stop this dangerous creature. I supposed one could say this is London's answer to Godzilla. I found this on TCM On-Demand. Nothing great but still enjoyable.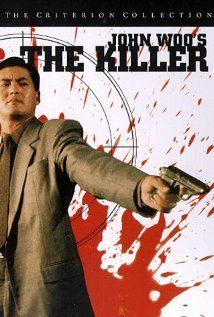 The Killer (1989): I end the week with one of my favorite action films and Hong Kong films. John Woo directed and wrote this action film and is my favorite John Woo film as well as my favorite among the John Woo/ Chow Yun-Fat collaborations. Chow stars as Ah Jong who is a hitman wanting to retire but takes one last job in order to help a nightclub singer named Jenny, played by Sally Yeh who was mostly blinded by Ah Jong's accidental shot. He is betrayed by his employers and being hunted by them and the police. The main investigator is Inspector Li, played by Danny Lee, who is pursuing Ah Jong and begins to admire him for seemingly having a code toward his lifestyle and sees that he is not just some cold-blooded killer. They slowly team up and become friends both with the same interests. This has just about everything from a good music score, good performances, direction, and really good action scenes. Also, behind all that violence, it is also a very moving film where we see a hitman who has a conscience and no one can pull that off better than Chow Yun-Fat in my opinion. It has a really good climax where there is a shootout at a church among doves. This is an amazing action film that was done right and deserves a watch. Nobody has seen Chow Yun-Fat if they haven't seen his Hong Kong films and I'm not necessarily knocking the American ones. This is available on Instant Netflix.
Well, that is it for this week but did return with my Movie Night at the Shera segment so read just a little further. Tell me what you like and dislike and stay tuned for next week which so far includes Octavia Spencer, Spencer Tracy, Gary Busey, Willem Defoe, Paul Newman, Gerard Depardieu, Errol Flynn, Liam Neeson, and many others.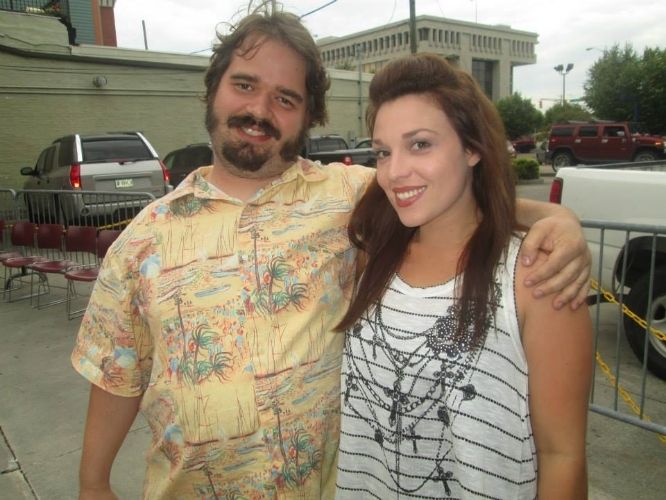 MOVIE NIGHT AT THE SHERA
The partial Lord of the Rings Trilogy (2001 and 2003): Last week, I was at Chris's House of Callies to watch a couple unrelated movies though both movies had Benicio Del Toro in supporting roles. This movie session started out during the day and ended in the evening where we watched two movies that were part of a series. Shera insisted on watching THE LORD OF THE RINGS and as much as I'm not a huge fan, they are still well done films so I agreed to this one especially since we haven't had one of these sessions in a while. We started by getting some pizzas from Papa Murphy's and went to Marsh to get some more junk food to make the most of our night. After the pizza was done, we got it going with THE FELLOWSHIP OF THE RING. Peter Jackson directed these adaptations to the popular fantasy novels by J.R.R. Tolkien and showed a lot of dedication. An ancient and evil ring has been found in which the noble wizard Gandalf discovers it is one of the three rings of the dark lord Sauron. A hobbit of the shire named Frodo, played by Elijah Wood, is given the ring and is to make a journey to the Cracks of Doom in order to destroy it. Joining him in his epic journey are humans Aragorn, played by Viggo Mortensen, and Boromir, played by Sean Bean, an elf named Legolas, a dwarf named Gimli, played by John Rhys-Davies, and Frodo's hobbit friends Samwise, played by Sean Astin, Pippin, played by Billy Boyd, and Merry, played by Dominic Monaghan. Andy Serkis provides the voice of Gollum who is a character that would become very significant in the ones after this. Ian Holm, Christopher Lee, Liv Tyler, Hugo Weaving, and many others co-star in this installment of the series. When we finished this one, I was not really paying attention to which was Shera put in and did not really look closely at the opening credits but we continued our session. After about an hour and a half into the movie, I was questioning a few things and it dawned on me that she put in the wrong one and played THE RETURN OF THE KING instead of THE TWO TOWERS. We were already pretty far into and agreed we might as well finish which was quite okay with me. So we inadvertently skipped THE TWO TOWERS and watched the conclusion one where our original plan was to get together at another time to watch the conclusion. In this one, Sam and Frodo are on their journey being led by Gollum who is playing the best friends against each other in hope for the ring. Elsewhere, Aragorn and Gandalf lead the rest in war against Sauron's army hoping to take the heat off Frodo and Sam. Miranda Otto, Karl Urban, and many others join the cast for this conclusion. I have always considered this one to be my favorite of the trilogy especially with some of the end stuff that I found to be very moving. We have no plans to watch the second one at this point and plan to move onto THE HOBBIT films also brought by Peter Jackson. We had a fun night with pizza, chips, and cookies and just laughed about our mistake. See you all for the 500th Edition.