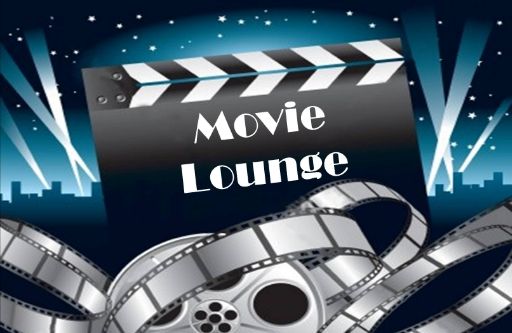 Welcome to the 501st Edition of my series. I hope all the dad's are having a good father's day. I don't have a lot of new stuff going on right now. I'm still at my new position where I work and work second shift for right now. I hope to get days soon but I do like having weekends off and not talking to anyone on the phone. I still try to make the most of my day. Not much else to say so let me get on with my selections.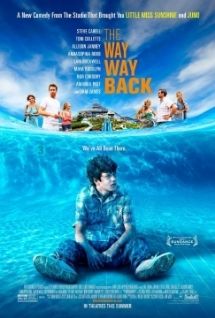 The Way Way Back (2013): Nat Faxon and Jim Rash co-directed and co-wrote this comedy/drama. Liam James stars as shy 14 year old Duncan who goes to a beach house for the summer with his mother Pam, played by Toni Collette, her overbearing boyfriend Trent, played by Steve Carell, and Trent's daughter Steph, played by Zoe Levin. Duncan does not get along with Trent who talks down to him a lot nor does he get along with Steph. He has a hard time finding friends in life with his shy personality but when wandering onto the water park he meets Owen, played by Sam Rockwell, who works at the park and forms an unexpected friendship finding a place where he fits in. AnnaSophia Robb, Maya Rudolph, Amanda Peet, and many others co-star in this film. This is a movie that is driven by characters. Carell is good as always as the unlikable boyfriend who you just want to punch and James does a good job as the shy teen. I can easily relate to Duncan when I was that age. I was not exactly popular and a bit socially awkward which unfortunately remains a bit true today but I believe I have come pretty far.
Cinderella Liberty (1973): I got the idea for this one when my dad put this as his favorite film of the day that he does on Facebook. It sounded interesting enough and was obtainable at the library so I gave it a shot. Mark Rydell directed this film which stars James Caan as Navy sailor John Baggs Jr., who is on temporary leave but becomes even longer when no one can find his records. He meets and falls in love with a hooker named Maggie, played by Marsha Mason, and tries to get her out of that lifestyle. He also becomes a father figure to her 11 year old son Doug, played by Kirk Calloway. Eli Wallach, Burt Young, Bruno Kirby, Dabney Coleman, and many others co-star in this film. Caan tones down his usual tough guy persona in this one and does a very good job. It is a very interesting love story and liked the way it ended. This was not something I had heard of until my dad posted about it on Facebook and I'm glad he did.
Stage Fright (1940): This is my Merry Melodies animated short for the week. A couple curious puppies wander into a theater were they fight over a bone and deal with a magician's rabbit, a playful seal, and an intimidating bird. This was all action and no dialogue. It was nothing great but cute but maybe I'm biased for being a dog person.
W.C. Fields: Straight Up (1986): This is my documentary for the week which is based on the comedic actor to separate the fact and fiction in his life. Joseph Adamson directed this documentary and Dudley Moore narrates it. This shows his childhood up to his rise in film where he became a very unique part of Hollywood. It also talks some about his personal life like leaving his pregnant wife. It has some really good footage from his movies as well as some of his earlier work. This is a really good look at the very quotable comedian.
The Adventures of Tom Sawyer (1938): Norman Taurog directed this version of the classic Mark Twain novel. Tommy Kelly stars as the mischievous boy from 1850 Missouri. The main part of the story is where him and his friend Huckleberry Finn go to the graveyard and witness a murder where they must decide what is right. Other known moments are his crush on Becky Thatcher, played by Ann Gillis, the painting of a fence, and running away. May Robson, Walter Brennan, Victor Jory, Donald Meek, Margaret Hamilton, and many others co-star in this film. This was a pretty well done version of the classic. The cinematography was very good. The climatic cave scene was also pretty well done.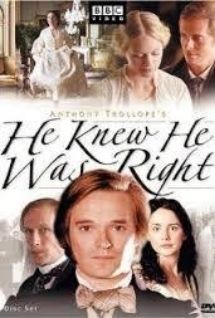 He Knew He was Right (2004): This is my BBC mini-series for the week. Oliver Dimsdale stars in this period piece as Louis Trevelyn who is about to start a good life by marrying Emily, played by Laura Fraser. In the beginning of the marriage, Emily forms a friendship with Colonel Osborne, played by Nill Nighy, and tries to get her to sever his friendship but she refuses much to her dismay leading to a very non-trusting marriage through the years. David Tennant, Geoffrey Palmer, Geraldine James, and many others co-star in this drama. There are other stories involved but this one was the compelling part. I thought that Bill Nighy stood out the most in this show. This has four episodes that are about an hour long.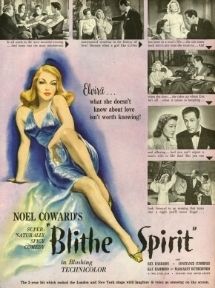 Blithe Spirit (1945): I continue with another British film. David Lean directed this rather morbid comedy based on the play by Noel Coward. Rex Harrison stars as author Charles Condomine who is doing research for his new book. Along with his wife Ruth, played by Constance Cummings, they go to see a local mystic named Madame Arcati, played by the always amusing Margaret Rutherford, to give a seance. The result of it is that the ghost of Charles's late wife Elvira, played Kay Hammond, that only he can see. Ruth is getting annoyed by her presence but Madame Arcati does not know what to do to make her leave. This was a very funny movie but was also quite dark and made me feel bad to laugh at some of the parts
The Triplets of Belleville (2003): This is my French animated film for the week. Sylvain Chomet wrote and directed this film. A woman named Madame Souza learns that her grandson Champion is kidnapped during the Tour de France and along with her dog Bruno, sets out to rescue him. She teams with the Belleville sisters who are an aged song and dance team. This movie has some pretty unique animation to it. It has very little dialogue and even that is mostly singing. It is a very enjoyable and amusing watch and really deserves a look.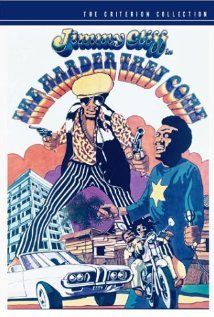 The Harder they Come (1972): Perry Henzell directed and co-wrote this Jamaican film that stars Jimmy Cliff in one of his very few film roles but became more famous after this one. Cliff stars as aspiring Raggae singer Ivan Martin who has hopes of becoming very successful. Unfortunately, he must deal with corruption from his music producers and is at odds with drug pushers leading into a violent lifestyle. The character is actually based on a Jamaican criminal named Rhyging who is like their folk hero. This movie can be called Blaxploitation but it is still a very well done movie to the point that Criterion picked it up. It is also known for its soundtrack which helped make the Raggae genre more popular. Cliff does a great job in a role he knows very well.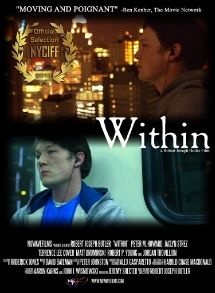 Within (2014): I end the week with this short film which was written and directed by my Facebook friend and support Robert Joseph Butler. Peter Howard stars as hopeless romantic Jacob who tries looking for love in the digital era with dating sites and such but non really go well including his date at the beginning with Laura, played by Jordan Trovillion, who is the sterotypical person with their eyes on a smart phone. He is also at a dead end pizzaria job and must examine his life. When about to close shop, he has a brief enounter with a girl named Molly, played by Jaclyn Strez, who is just passing through town and has a very meaningful conversation giving him a new sense of purpose in life. Butler did a real good job on this film where the performances, music score, and cinematography work very well. This short film won the Audience Choice award at the Cinetopia Film Festival. This is available to watch on https://www.reelhouse.org and can be rented for $4 and bought for 8$. It was well worth my purchase. RJB has done quite a bit short films and some can be seen on his website http://www.nuwavefilms.com on the "now showing" section. He is still working toward doing a feature film but lacks the backers in order to do it. If any producers see this and can help him out, I think you will have made a good decision.
Well, that is it for this week. Tell me what you like and what you dislike and stay tuned for next week which so far includes Annette Bening, Lili Taylor, Reese Witherspoon, Charlie Chaplin, Andy Griffith, and many others.