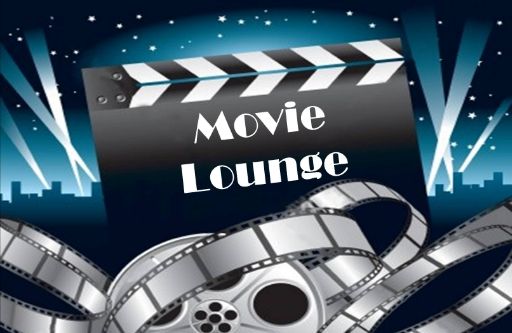 Welcome to the 503rd edition of my series. I hope everyone had a good fourth of July. I'm grateful that I have the freedom to write this blog. I don't really have a lot to say right now since I'm not one to post my political or religious beliefs except I will say that I am glad that gay marriage has been passed and that the aftermath of the Confederate flag issue has gone too far where it appears we are now to just forget that it exists. I will now continue with my selections for the week.
The Last Circus (2010): I start this this rather bizarre Spanish film which was written and directed by Alex de la Iglesia. Carolina Bang stars as trapeze artist Natalia who is in a very abusive relationship with the star happy clown Sergio, played by Antonio de la Torre. Carlos Areces stars as Javier who has just joined the circus as their sad clown. He begins to have problems with Javier and begins to witness his abusive ways. He also forms an affection for Natalia who he tries to rescue from her abusive relationship. While she takes a liking to Javier, she never really comes full circle and still has feelings for Sergio which drives Javier to insanity leading to a lot of violence. This is not for everyone. This has a lot of dark humor and a lot of gore. The movie also has some of the creepiest clowns of all time. Take this description for what it is worth to decide if this is for you.
The Holy Mountain (1979): I follow up with another very bizarre film and this one is directed and written by Alejandro Jodorowsky who also stars as the Alchemist. He is a Christ-like figure who is introduced to seven wealthy and powerful figures that represent a planet in the solar system. These people are looking to find the holy mountain to achieve enlightenment but it is not what it is cracked up to be. I don't have much explanation beyond that statement to really convey this film. This has a lot of very weird imagery that can be offensive to some but compelling to others.
The King Without a Crown (1937): This is my short film for the week. I guess you could call this a hypothetical history short which centers around Louis XVII who is the son of Louis XVI and Marie Antoinette who had been executed and XVII is thought to be dead. In this short, a missionary named Eleazar learns that he is actually Louis XVII. He had no interest in the throne but refused to sign a declaration. This is an alleged story but does not have any proof one way or another. It was an interesting few minutes that I found on TCM. The photo is of narrator Carey Wilson.
Begin Again (2013): ONCE director John Carney directed this film which I believe is kind of an homage to the independent music scene. Mark Ruffalo stars as Dan who has just been fired from his job as a music producer and decides to drink himself away at a bar while having a chance encounter toward a singer named Gretta, played by Keira Knightley, who he believes has some raw talent and is marketable. She is having her own problems with a recent breakup with her boyfriend Dave, played by Maroon 5 singer Adam Levine, after his new found fame as a singer. Dan is soon determined to help Gretta get herself out there as a singer and they find many clever ways using the limited resources that they have. Catherine Keener, Hailee Steinfeld, Rob Morrow, Ceelo Green, and many others co-star in this film. I really enjoyed this one and thought Knightley did a pretty good job on the singing. I also thought it was a good story on a father trying to reconnect with his teen daughter, played by Steinfeld. This has a good soundtrack, story and cast and one I really connected with.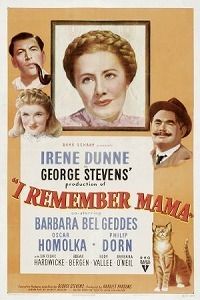 I Remember Mama (1948): George Stevens directed this film based on a play by John Van Druten. Irene Dunne stars as the title character who is the matriarch of an immigrant family in 1910 San Francisco. It shows the ups and downs of this poor family where the mom tries to keep it together with her pennywise budget. Barbara Bel Geddes, Oskar Homolka, Cedric Hardwicke, Rudy Vallee, Barbara O'neil, Edgar Bergen, and many others co-star in this film. Homolka was very amusing as their uncle Chris who is essentially the comic relief of it. Bergen is known as the ventriloquist for Charlie McCarthy and is his first appearance without his puppet and plays Mr. Thorkelson. This is a very good portrait of a family from this era with good performances.
Boys Don't Cry (1999): This is part two of my Peter Sarsgaard series. Kimberly Peirce directed this film based on a true story of Teena Brandon who passed herself off as Brandon Teena to very tragic results. Hilary Swank stars as Brandon who is born a female but forms a male identity. She manages to make her way into a small town as one of the guys and respected by girls who feel he is a very sensitive and caring man. Brandon forms a relationship with town beauty Lana, played by Chloe Sevigny, who is unaware of Brandon's true gender. Brendan Sexton III, Alicia Goranson, Allison Folland, Jeanetta Arnette, Rob Campbell, Matt McGrath, and many others co-star in this film. Swank is great as Brandon and Sevigny does a very good job too. They worked very well together. This is one that really deserves a look.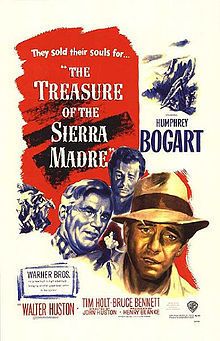 The Treasure of the Sierra Madre (1948): John Huston directed this film based on the novel by B. Traven. Humphrey Bogart and Tim Holt star as poor Americans Dobbs and Curtin living in Mexico and looking for work. They meet up with an aging prospector named Howard, played by Walter Huston, and decide to go to Central Mexico in search of gold and riches. They succeed some in finding gold but bandits, the elements and their own greed threaten to make their turn into a disaster. Bruce Bennett and Barton Maclane co-star in the film. Also look for cameos from John Huston and Robert Blake. Huston is the man in the white suit in the beginning and Blake is the child selling lottery tickets. Many say this is Bogart's best performance and John Huston cast his father Walter in his best performance which was his only Oscar. This is where the phrase about not needing stinkin' badges started. This is a very good tale of greed.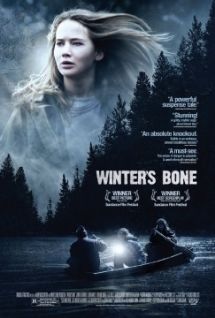 Winter's Bone (2010): Debra Granik directed and co-wrote this film based on the novel by Daniel Woodrell which is in a sense a bit of a film noir within the Ozark Mountains. Jennifer Lawrence stars as Ree who is a 17 year old that has been forced to grow up a lot with her drug addict mother and younger siblings. She is informed by the local sheriff that her absent father put up their house as collateral for his bail and if does not show up for his court date they would lose it. Ree sets out to learn the truth about what has happened to her drug dealing father even if everyone shuts her out saying not to get into other people's business. John Hawkes co-stars as Teardrop who is Ree's uncle and tells her that her dad is likely dead. Even with that, she is still determined to learn the truth. Shelley Waggener, Garret Dillahunt, Dale Dickey, and many others co-star in this film. Lawrence is great as Ree and Hawkes also does a great job. It has some very good scenery taking place in the poor Ozark mountains. Lawrence also worked very hard in her role to both get the part and scenes where she actually learned things like skinning squirrels and chopping wood. I have read that she was first turned down being cited for being too pretty so she walked in the sleet for 13 blocks and did not wash her hair for about a week and went back into the audition with a runny nose and messed up hair. Those are some of the reasons I love Jennifer Lawrence.
How the West was Won (1962): This is my western for the week which has three directors in John Ford, Henry Hathaway, and George Marshall who each directed different interlocking segments. This is a family saga which takes place several decades in the 19th century including the Gold Rush, Civil War, and the building of railroads. It has quite the all star cast with people like James Stewart, Carroll Baker, Henry Fonda, Gregory Peck, Lee J. Cobb, Debbie Reynolds, George Peppard, Eli Wallach, John Wayne, Richard Widmark, Walter Brennan, Lee J. Cobb, Raymond Massey, Agnes Moorehead, Harry Morgan, Thelma Ritter, Russ Tamblyn and narrated by Spencer Tracy. I will say that my favorite scene was the one with James Stewart as fur trapper Linus Rawlings. The whole movie works quite well with the interconnected stories and the Cinerama camerawork.
61* (2001): I end with this HBO baseball movie where Billy Crystal goes behind the camera as the director. This takes place during the 1961 season where the MLB has added some games to the season where many believe Yankee players Mickey Mantle and Roger Maris have a good chance to break Babe Ruth's single season home run record of 60 which everyone knows Maris ended up doing. This takes a look at the struggle and triumph of both players who were the very opposite of each other in personality. Barry Pepper stars as Roger Maris who was a more soft-spoken family man and wanted to play baseball which the media targets this personality trait even exploiting it. Thomas Jane stars as Mickey Mantle who was the more charismatic and popular one while his fellow teammates would do what they can to hide his drinking problems from the media. Gunton, Anthony Michael Hall, Richard Masur, Bruce McGill, Chris Bower, Christopher McDonald, Seymour Cassel, Michael Nouri, and many others co-star in this well-done baseball movie. Pepper and Jane do a great job pretty much becoming the legends. This can be enjoyed by the die hard baseball fans to the non-baseball fans.
Well, that is it for this week. Tell me what you like and dislike and stay tuned for next week which so far includes Eddie Redmayne, Harry Dean Stanton, Franka Potente, Harold Lloyd, and many others.