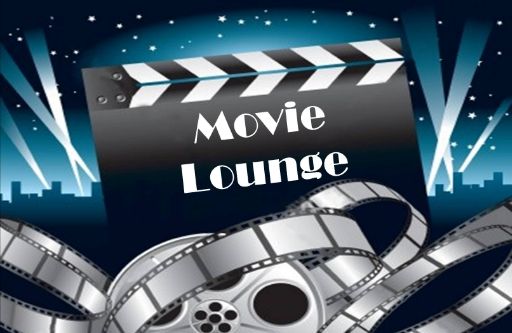 Welcome to the 517th Edition of my series. This is the first week of The Madness where every year there is a new theme and contest for us movie buffs. I also want to announce that tomorrow I start a day shift at my job and I also am starting rehearsals for THE MIRACLE ON 34TH STREET which is a musical going on at Muncie Civic Theater in December and my first show there in five years. It is written by Meredith Willson who is known for writing THE MUSIC MAN.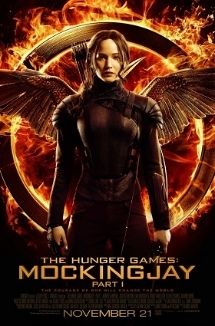 The Hunger Games: Mockingjay: Part 1 (2014): This is the third of the series from the novels of Suzanne Collins and is the 1st part of the finale of the series. Jennifer Lawrence reprises her role as Katniss Everdeen where the games are now destroyed. Katniss, Finnick, played by Sam Claflin, Beetee, reprised by Jeffrey Wright, and Gale, reprised by Liam Hemsworth end up in District 13 which did is not much better. She finds that Peeta, reprised by Josh Hutcherson, has been brainwashed by President Snow, reprised by Donald Sutherland, and looks to rescue him as well as get him back to his senses. Woody Harrelson, Philip Seymour Hoffman, Julianne Moore, Willow Shields, Elizabeth Banks, Jena Malone, Stanley Tucci, and many others co-star in this film. I was a little disappointed that Malone was pretty much an extra in this one and hope she'll have a bigger part in the next one as I really liked her character. This also does not match the first two but still found it very watchable, especially with Jennifer Lawrence pretty much defining the part of Katniss in my opinion. She also sings the song THE HANGING TREE and does a really good job. I hope this series will end with a bang.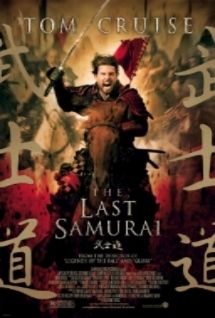 The Last Samurai (2003): I remember seeing the poster and thinking "Tom Cruise in a samurai film?" mostly thinking WTF but then it turned into one of my favorites. Edward Zwick directed and co-wrote this film along with John Logan. Cruise stars as Civil War veteran Captain Nathan Algren who is very bitter about his times but takes a job in training a very inexperienced Japanese army and go after a group of Samurai warriors who refuse to give into the western ways and fight to keep their tradition. In an attack on the group, Nathan is captured by the samurai and taken to they reside. Ken Watanabe stars as Katsumodo who is mostly the leader of the samurai and is curious about Nathan. They slowly become friends and a bitter Algren begins to develop their ways kind of like DANCES WITH WOLVES and later AVATAR. William Atherton, Billy Connolly, Tony Goldwyn, Timothy Spall, and many others co-star in this film. I really thought Cruise gave one of his best performances in this one and Watanabe also does a great job in his American debut. This has a really good story leading up to a very emotional climax.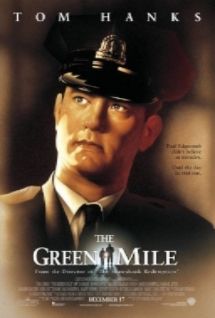 The Green Mile (1999): This is my prison film for the week. Frank Darabont directed this movie based on the novel by Stephen King. Tom Hanks stars as death row guard Paul Edgecome whose life and the other guards' lives are affected by a new, timid inmate named John Coffey, played by Michael Clarke Duncan, who is accused of a brutal murder of children. Paul soon discovers this inmate has what appears to be a gift from god and begins to doubt his guilt. David Morse, Bonnie Hunt, James Cromwell, Michael Jeter, Graham Greene, Sam Rockwell, Barry Pepper, Patricia Clarkson, Harry Dean Stanton, William Sadler, Gary Sinise, and many others co-star in this film. This is a very moving film focusing on the relationship between Paul and John who work very well together. Rockwell is amusing as death row inmate Wild Bill. Stephen King has said this is the most faithful movie adaptation of his work. This is an amazing prison film and is worth the three hours.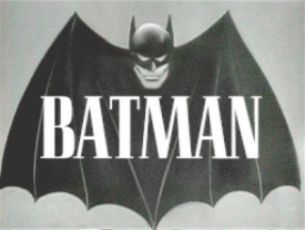 The Batman (1943): This is one of two short selections for the week. Long before we had Adam West and Burt Ward in the cheesy sitcom, we started with Lewis Wilson and Douglas Croft as Batman and Robin. This is a serial and for those that do not know is in a sense a tv series from that era. This is the twelfth episode of the serial called EMBERS OF EVIL and there were fifteen episodes. In the series they are trying to stop a spy operation. This was long before things like the batmobile were introduced but they had to start somewhere. As far as I know, this is the first thing that brought Bob Kane's characters to life.
M (1931): This is my Film Noir for the week which was directed by Fritz Lang. Peter Lorre stars as child killer Hans Beckert who lures young girls only to kill them. The police unsuccessfully search for the killer leading to the criminal underground to do their own investigation as well as a very unusual trial. This is a German film which holds nothing back and is not one for everyone. Lorre does a great job as Beckert. Much of the people in the criminal underworld were actual criminals.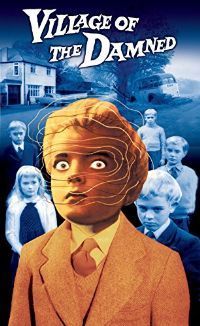 Village of the Damned (1960): So I go from a child murderer to murderous children. A whole village falls unconscious and when awaking, the women have mysterious pregnancies resulting in some children who seem to grow pretty fast, have very wide eyes and can force people to do things against their will. George Sanders stars as Gordon who is trying to understand the kids while protecting the town. This is pretty decent British sci-fi and kids who look legitimately creepy.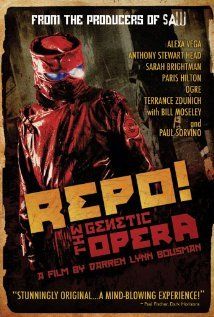 Repo! The Genetic Opera (2008): This is my musical for the week which was directed by Darren Lynn Bousman. This takes place in a bleak future centered around GeneCo which does organ transplants but for an absolute price that includes their own repossession. Alexa PenaVega stars as the sheltered 17 year old Shilo who has a very rare disease and is kept inside by her father Nathan, played by BUFFY alum Anthony Stewart Head, who is a repo man himself unbeknownst to his daughter. Broadway star Sarah Brightman makes her film debut as the Blind Mag and does a really good job. Paul Sorvino, Paris Hilton, and many others co-star in this rock opera. This is for those that favor the darker musicals and yes I refer to myself though still watch the classic ones. It was great to see Anthony Stewart Head in a starring role and showing his great musical talent which I believe Tim Burton missed out upon for when he did SWEENEY TODD and was going to cast him as one of the ghosts singing the main music number of THE BALLAD OF SWEENEY TODD but Burton decided to only use the instrumental. There are a lot of very good and diverse musical numbers and a very interesting story. I would love to see this come to a stage near me someday.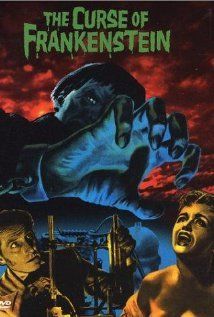 The Curse of Frankenstein (1957): This is my Hammer Films selection for the week and my favorite adaptation to the Mary Shelley novel. Peter Cushing stars as Victor Frankenstein who after bringing back a dead dog, decides to try bringing a person to life out of body parts. Christopher Lee is who comes to life as the Creature and does not act nearly as Dr. Frankenstein intended which leads to a lot of tragedy. Hazel Court and Robert Urquhart also co-star in this film trying in different ways to be the voice of reason for Victor Frankenstein. Cushing is my ideal Dr. Frankenstein playing the very obsessed scientist. Lee makes the most of the creature even if he has no lines. Also remember that Victor Frankenstein is the title character, not the creature. This is the first actual teaming of Cushing and Lee even though they were both in HAMLET but did not meet. I have always favored this over the older Universal films though they have their own place.
Trog (1970): Many actors have gotten to go out with a bang in the swan song films, Joan Crawford unfortunately was not one of them and ended her career with this B-movie that has turned into a cult classic. Crawford stars as anthropologist Dr. Brockton who unearths a troglodyte which is essentially a half-caveman and half-ape. She tries to domesticate him but is set loose by a land developer, played by Michael Gough, and wreaks havoc. This is mostly to watch as so bad it's good and how desperate Joan Crawford was to find work.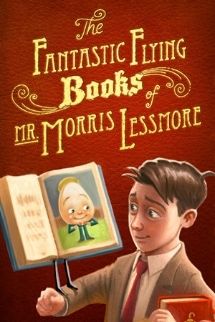 The Fantastic Flying Books of Morris Lessmore (2011): I end the week with this animated short from William Joyce and Brandon Oldenburg. This takes place during the aftermath of Hurricane Katrina where the title character goes into a mysterious library where the books come to life. This was a very fun and touching animated film. There are touches of Buster Keaton with the main character. Now that I'm trying to become more of a reader, I can appreciate this a lot more.
Well, that is it for this week but I do have some more for the first week of the Madness so continue to read. Stay tuned next week which so far includes more Tom Cruise, Christopher Lloyd, Brad Pitt, Vincent Price, Orson Welles, Christopher Lee, Jennifer Connelly, and many others.
THE MADNESS: WEEK ONE
This is the annual October contest for watching movies for Halloween. I have done this every year since it started in 2007 and while I never win, I do have the nickname of "The King of the Loophole". The reason for the name is that depending on the category, they will assign names of people in the industry in which you can watch anything even if it is not horror or Halloween oriented which you will see a lot of as you continue to read though I have a few good Halloween selections to go along. I will be posting things for mostly movies, some television, and a little bit of live theater.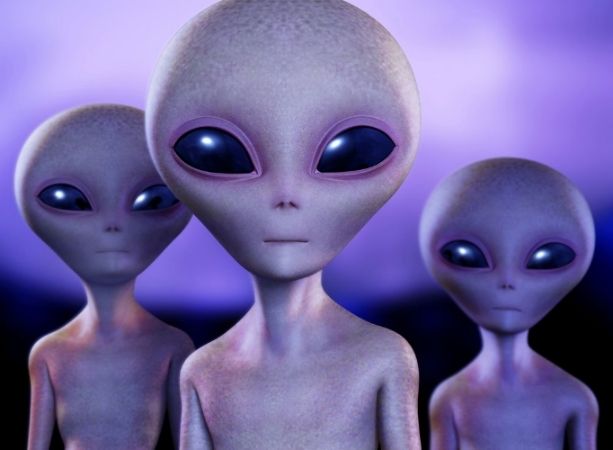 ALIENS
I Am Number Four (2011, 109 minutes, 66): This is more teen sci-fi than anything. Alex Pettyfer stars as John Smith which is number Four who is really an alien trying to get away from intergalactic bounty hunters. I enjoyed when Teresa Palmer came into the movie as Number Six and we get to see GLEE's Dianna Agron. Nothing great or horrible but is certainly a selection for this year where we can do just about any sci-fi.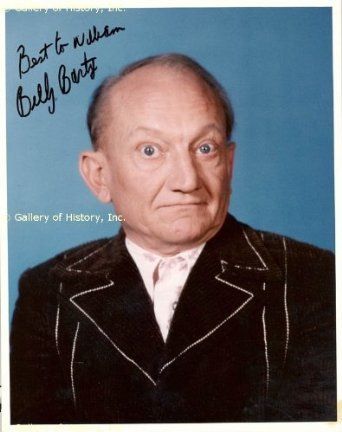 BILLY BARTY
Frasier: High Crane Drifter (1996, 24 minutes, 666): This is from FRASIER season three and episode 17 where Frasier gets tired of people's rude and inconsiderate behavior. Billy Barty is one of the callers named Chris so this is my loophole from Mr. Barty.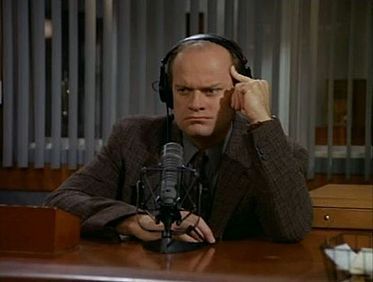 _______________________________________________________________________________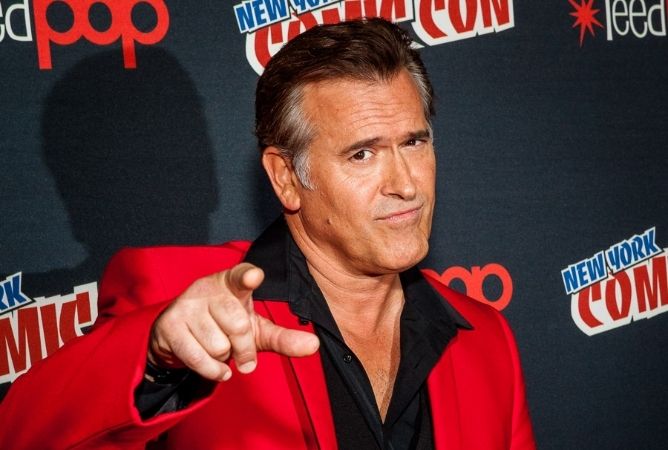 BRUCE CAMPBELL
Cloudy with a Chance of Meatballs (2009, 90 minutes, 66): Bruce voices the mayor of the town whose inventor creates a machine that rains food. I have never really been able to get much into this but has its moments and has Bruce.
CHRISTOPHER LEE
The Curse of Frankenstein (1957, 82 minutes, 666 1/2): As I said above, this is my favorite film adaptation of Mary Shelley's classic novel.
The Lord of the Rings: The Fellowship of the Ring (2001, 178 minutes, 666): This counts either way but the presence of Christopher Lee is enough to justify this selection.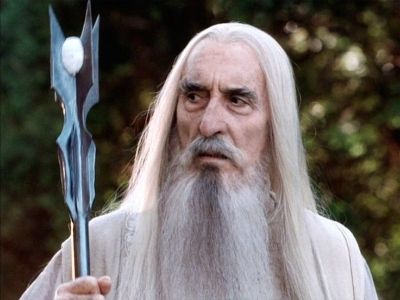 ______________________________________________________________________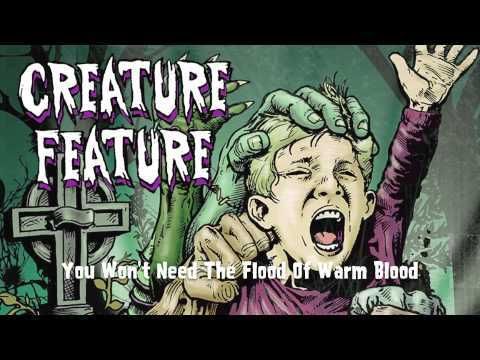 CREATURE FEATURES
Godzilla (2014, 123 minutes, 666): Not a lot is needed to justify this pretty decent American film featuring the Japanese icon.
The Lorax (2012, 86 minutes, 666): This is my Dr. Seuss selection for the contest and with the Lorax beign an unusual creature, I think this should qualify as fantasy in a world where there are no trees and air gets sold.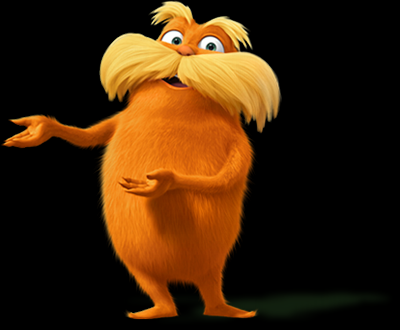 Slither (2006, 95 minutes, 666): This has a parasitic worms which turn the locals into zombie like creatures and mutant monsters and the main one affected is Michael Rooker's character Grant. Nathan Fillion and Elizabeth Banks try to fight it and save Grant. Decent horror comedy.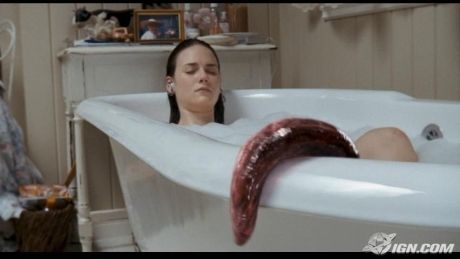 Trog (1970, 93 minutes, 6 1/2): Who would have thought Joan Crawford would have a B-movie like this one as her last one. This is a sci-fi b-movie so with having all sci-fi I don't see any reason for this not to count.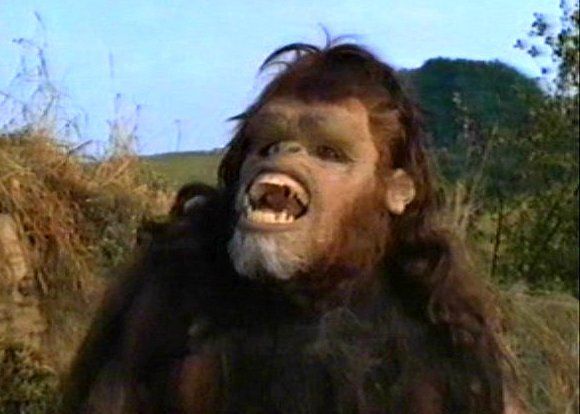 ______________________________________________________________________
DARK FUTURE
The Hunger Games: Mockingjay Part 1 (2014, 123 minutes, 666): This futuristic film should have some good sci-fi moments to qualify for a spot on this year's Madness and I love Jennifer Lawrence.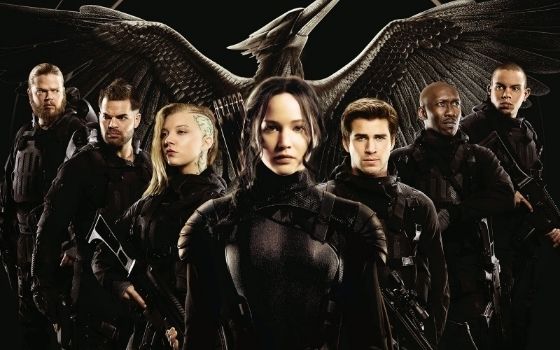 Interstellar (2014, 169 minutes, 666): Christopher Nolan directed this sci-fi epic of a group of explorers going through a wormhole in space looking into survival. Matthew McConaughey, Anne Hathaway, Jessica Chastain, Michael Caine, Ellen Burstyn, Casey Affleck, Matt Damon, and many others are cast in this film. This is a very complex and thought-provoking sci-fi film and is worth the near three hours.
______________________________________________________________________
FAIRIES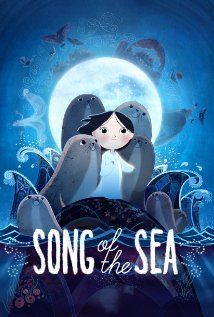 Song of the Sea (2014, 93 minutes, 666 1/2): This is a beautiful animated film from Tomm Moore. This has plenty of fantasy elements to make this one qualify and is actually one for the family.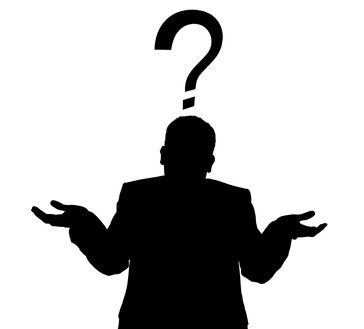 FANTASY, SCI-FI, AND OTHERS I CANNOT THINK OF A SPECIFIC CATEGORY
Dr. Strangelove or: How I Learned to Stop Worrying and Love the Bomb (1964, 95 minutes 666 1/2): I know I'll have to justify this one. I believe that the black and white cinematography, things like a riding a nuclear bomb like a cowboy, and the title character contribute to the darkness them of this year.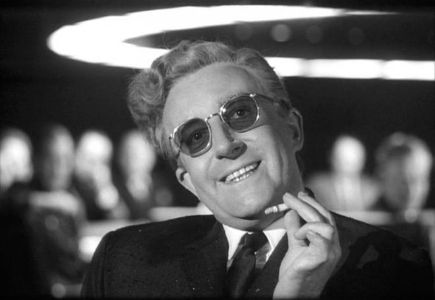 The Fantastic Flying Books of Morris Lessmore (2011, 15 minutes 666): The flying books should justify this light hearted fantasy selection. If this is not enough see the "Superheroes" category for more.
The Green Mile (1999, 189 minutes, 666 1/2): This Stephen King adaptation has a man who has a mysterious gift of healing in a strange way so I believe those are fantasy elements to justify this selection.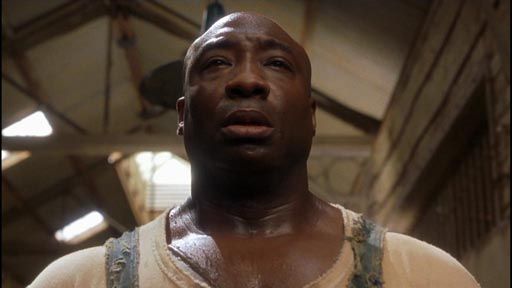 The Man Who Could Work Miracles (1936, 82 minutes, 66 1/2): This is based on an H.G. Wells novel where a man suddenly gains the gift to make anything he says happen so this should count for me as sci-fi.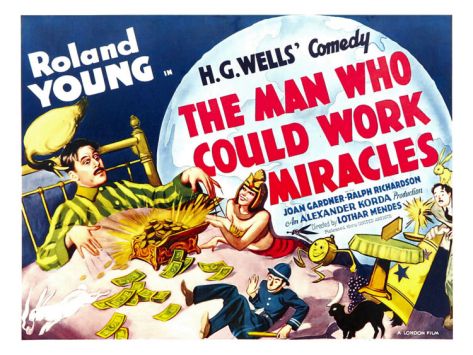 Mr. Bug Goes to Town (1941, 78 minutes, 66 1/2): This is an animated tale from Dave Fleischer. I think a case for the talking bugs for fantasy and the high adventure for the way they try to relocate their home.
Star Trek Into Darkness (2013, 132 minutes 666): Most of the years this would not count but this year we can use all sci-fi. This is the sequel to the 2009 reboot where they must content with Khan, played by Benedict Cumberbatch, who declares a one-man war on starfleet. Chris Pine reprises his role as Captain Kirk as well as the rest of the cast. This has some pretty good action and was a pretty fun one. It does have the word "Darkness" in it.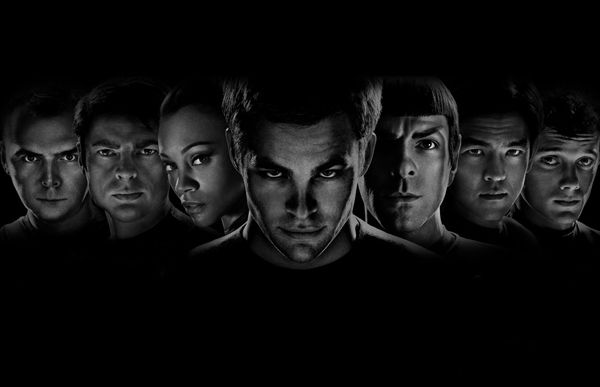 ______________________________________________________________________
FILM NOIR
M (1931, 99 minutes, 666): In the rules, there is "Think M over DOUBLE INDEMNITY" so I think that is enough for this very dark Peter Lorre film.
______________________________________________________________________
GHOSTS
ParaNorman (2012, 92 minutes, 666): This animated film goes without saying where a misunderstood boy must save his town where ghosts and an ancient curse.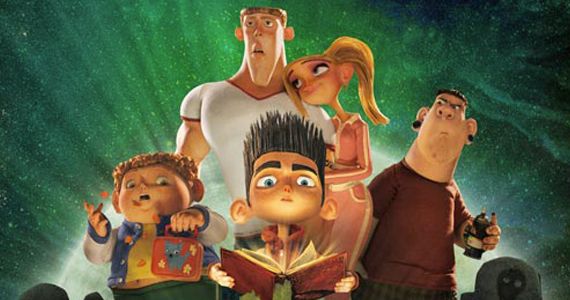 ______________________________________________________________________
KATHRYN BIGELOW
The Equalizer: Lady Cop (1985, 45 minutes, 666): This is season 1 and episode 5 of the tv series. Kathryn was a writer in this episode of the 80s tv series where Edward Woodward stars as Robert McCall who is a private investigator helping people with their problems. In this one, he is hired by a female cop, played by Karen Young whose co-workers are quite corrupt so he takes care of it. I had not seen this show or seen the movie but this was pretty watchable. Good wild card.
MURDEROUS CHILDREN
Village of the Damned (1960, 77 minutes, 666): This is an interesting film of kids who make make adults do whatever they want.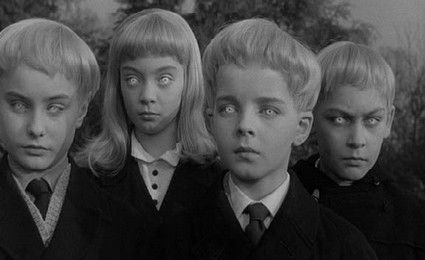 ______________________________________________________________________
MUSICAL MADNESS
Jekyll and Hyde: The Musical (2001, 135 minutes, 666): This is another live dvd where David Hasselhoff plays the dual personality. I always enjoy a good, dark musical and while I have had my differences with the Hoff, he was pretty good in this.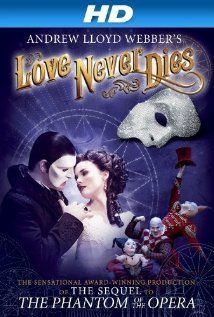 Love Never Dies (2012, 121 minutes, 666): This is a live performance of Andrew Lloyd Webber's sequel to his classic of PHANTOM OF THE OPERA. This takes place 10 years later in Coney Island where the Phantom now resides and Christine is coming to town in order to sing for Oscar Hammerstein but the Phantom's love never dies as the title says and is able to get her to perform his own song. This is actually pretty decent with a good story and good numbers. I know I'd rather perform in a show that the Phantom writes than Hammerstein, nothing against the legendary music writer.
Repo! The Genetic Opera (2008, 98 minutes, 666): This is in a very dark futuristic world where body organs get repoed if they are not paid. Great to see Anthony Stewart Head in essentially a starring role.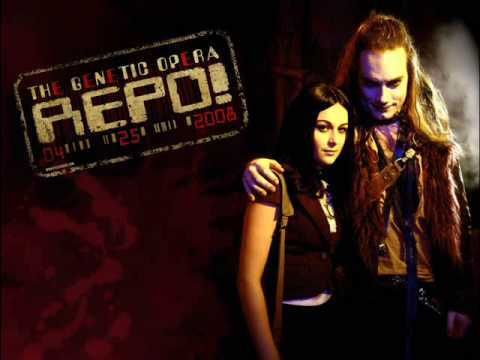 ______________________________________________________________________
OLIVIA WILDE
The Next Three Days (2010, 133 minutes, 66): This qualifies for wild card Olivia Wilde. Russell Crowe stars as a husband whose wife is accused of murder and is soon to be sent away for life. He devises quite the escape plan with the help of the cameo appearance of Liam Neeson. I find myself a bit on the fence on this one. I can usually suspend disbelief but this one was harder for me to do so but glad to find a good loophole for Ms. Wilde.
______________________________________________________________________
PSYCHOLOGICAL THRILLERS
The Skin I Live In (2011, 120 minutes, 666): This is more of a psychological thriller but has been referred to as horror. Antonio Banderas synthesizing skin and using someone in the process should make this one count for the minimum.
______________________________________________________________________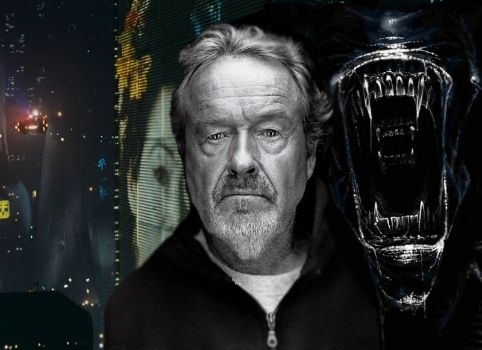 RIDLEY SCOTT
The Assassination of Jesse James by the Coward Robert Ford (2007, 160 minutes, 6666): Mr. Scott is a producer of this one and made the right decision to help get this one going. I was probably most excited about this movie for a loophole. Brad Pitt and Casey Affleck are phenomenal as Jesse James and Bob Ford. The acting, cinematography by Roger Deakins, and the music score from Nick Cave and Warren Ellis make this film great on so many levels, just don't expect some conventional western. I will just say that this will be featured on my 10 year anniversary in November that is to focus on 100 of my favorite films.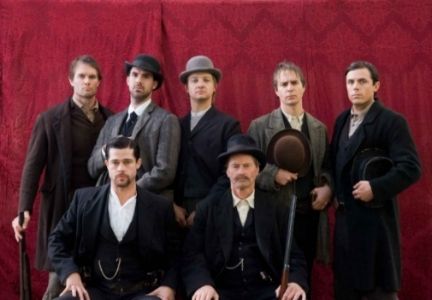 ______________________________________________________________________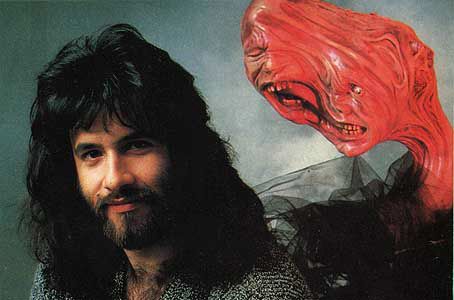 ROB BOTTIN
Charlies Angels (2000, 98 minutes, 66 1/2): This is my guilty pleasure action movie which Bottin helped on make-up. I can also qualify with Tim Curry but I want to give Bottin his recognition. This is a remake of the popular 70s tv series featuring female private detectives employed by the mysterious Charlie, reprised by John Forsythe in this movie. Drew Barrymore, Lucy Liu and Cameron Diaz play the trio of females in this fun, action packed film.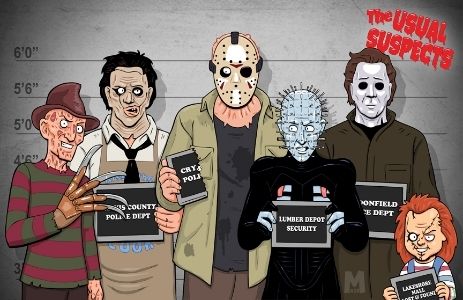 SLASHERS AND SERIAL KILLERS
The Texas Chainsaw Massacre: The Beginning (2006, 91 minutes, 66 1/2): Not a bad entry and respectful to the franchise. It is very unpleasant and disturbing which is what it is supposed to be. R. Lee Ermey plays the psychotic self-appointed sheriff and Andrew Bryniarski plays the young Leatherface. Jordana Brewster, Taylor Handley, Diora Bland, and Matt Bomer are the group of friends taking the wrong road trip.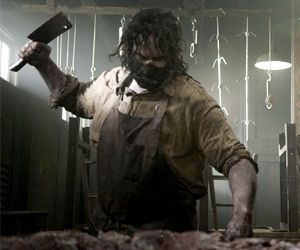 ______________________________________________________________________
SUPERHEROES
Arrow: Green Arrow (2015, 45 minutes, 666 1/2): This is the season four premier of the CW series. Oliver returns to Star City when things are getting worse. This I would say gets a bonus point for having many references to the darkness of Oliver.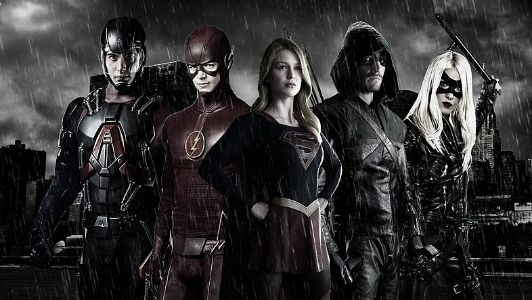 Batman (1943, 15 minutes, 66): I only did an episode of this old serial of Batman so if the 15 is not enough see THE FANTASTIC FLYING BOOKS OF MORRIS LESSMORE in the "Fantasy, Sci-fi, and others I cannot think of a specific category for' which is about the same time to give me a half point.
Batman: Under the Red Hood (2010, 75 mintues, 666 1/2): This is a very good animated entry in my opinion where there is a mysterious vigilante in Gotham called Red Hood who does not hold Batman's morality of not killing. Batman also reflects on the death of Jason Todd which was the second Robin through flashbacks. We also get to see Nightwing who is Dick Grayson grown up from Robin. Ra's Al Ghul, the Riddler, and the Joker also make appearances.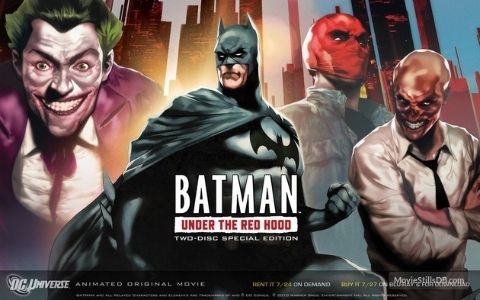 Batman: Year One (2011, 64 minutes, 666): Decent animated Batman which really focuses more on the Lieutenant Gordon who transfers to Gotham City only to discover extreme corruption. Bruce Wayne has just returned to Gotham City and begins his double life as Batman where him and Gordon cross paths while seeing Batman is a better crimefighter than the police force. We also see Selina Kyle try to make it in the world of Gotham and she becomes Catwoman. Bryan Cranston voices Gordon, Ben McKenzie voices Wayne, and Eliza Dushku voices Selina Kyle. We also get to see the pre Two-Face Harvey Dent in a cameo appearance.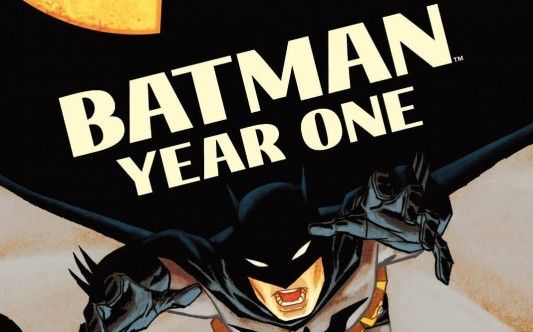 The Flash: The Man Who Saved Central City (2015, 45 minutes, 666): This is the second season premier for the speedster and would say this qualifies for this year's Madness with the sci-fi elements.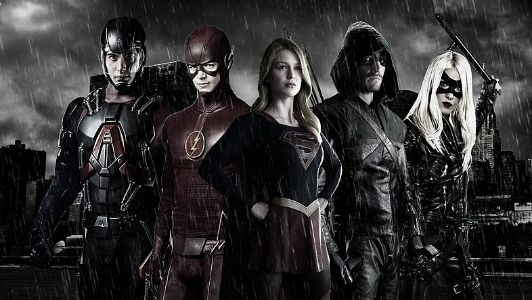 ______________________________________________________________________
TELEKINESIS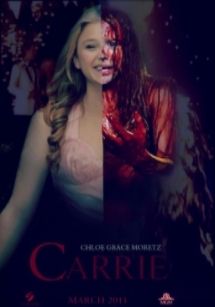 Carrie (2013, 100 minutes, 66 1/2): Not a bad remake of the 1976 classic based on the novel by Stephen King. Chloe Grace Moretz plays the teen with telekinetic powers whose mother and the bully high school kids drive her to the edge. I believe Moretz has the highest body count for a youth in film.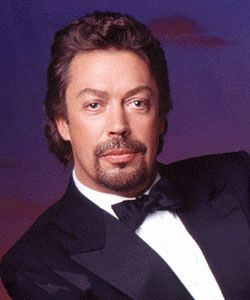 TIM CURRY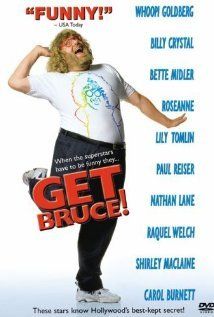 Get Bruce! (1999, 75 minutes, 666): This is a documentary on comedy writer Bruce Vilanche which features Tim Curry. All I really knew of Bruce was his time on the HOLLYWOOD SQUARES of the '90s. What I did not know until watching this was how he writers a lot of stuff for variety shows like the Oscars and helps write material for hosts and presenters. This is a pretty fascinating portrait on a mostly behind the scenes person.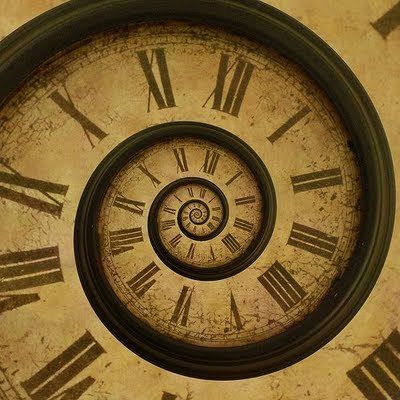 TIME TRAVEL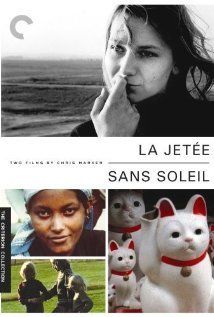 La Jetee (1962, 28 minutes, 666): This is a very interesting short that conveys everything through imagery but is a form of sci-fi of a man going in and out of time to find a solution to the world's fate.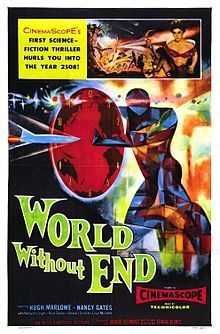 World Without End (1956, 80 minutes, 66 1/2): This is some sci-fi where astronauts end up in a post-apocalyps world populated by mutants so this ought to count for something.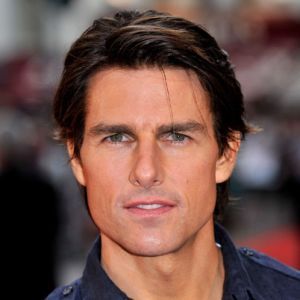 TOM CRUISE
Collateral (2004, 120 minutes, 666 1/2): Anything Tom Cruise this year so I chose this film where he is the crazed hitman and possibly one of his best performances.\
The Last Samurai (2003, 154 points, 666 1/2): Another Cruise loophole to make horror fans cringe. This is acually one of my favorite movies.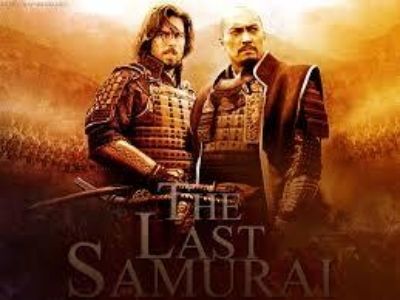 ______________________________________________________________________
VAMPIRES
The Hunger (1983, 97 minutes, 666): I had never actually heard of this vampire film until recently. Interesting story that stars David Bowie, Catherine Deneuve, and Susan Sarandon. It also has a pretty good soundtrack.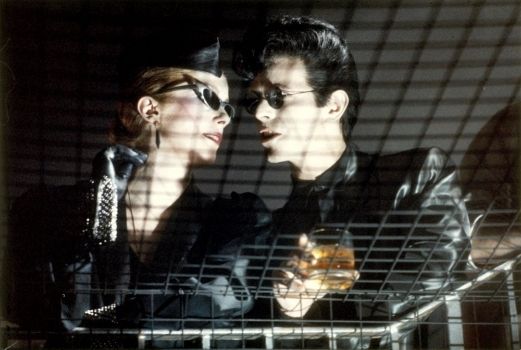 The Originals: For the Next Millennium (2015, 45 minutes, 666): This is the third season premier of the VAMPIRE DIARIES spinoff and glad to see they are being shown back to back this year. The power struggle in New Orleans continues with the vampires and witches and new threats in town while Klaus is still be resented by his family for the things done last season.
The Vampire Diaries: Day One of Twenty-Two Thousand, Give or Take (2015, 45 minutes, 666): This is the 7th and final season premier of the CW show where Damon must face life without Elena and look to stop the new threat in town. I think this will be pretty good.
______________________________________________________________________
WES CRAVEN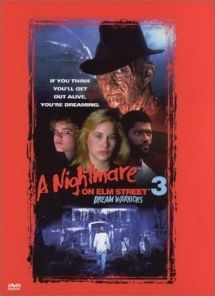 A Nightmare on Elm Street 3: Dream Warriors (1987, 96 minutes, 666): Wes did not direct this but did help write the screenplay and produced it. Heather Langenkamp returns as Nancy who is not a psychiatrist specializing in dream therapy and finds that a new group of kids are facing nightmares with Freddy Krueger. Patricia Arquette is the main one and they all learn to take control of their dreams to fight Freddy. This is said to be the best in the series. It does have some really interesting effects with Freddy that I don't really remember in the first one.