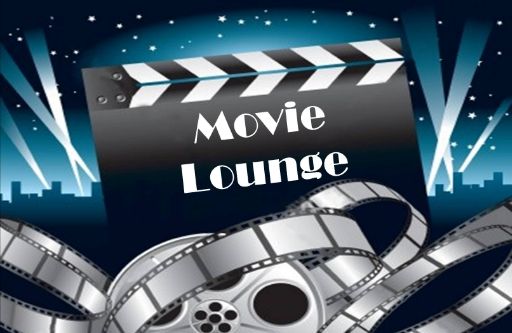 Welcome to the 524th Edition of my series. Next weekend is the opening for my show MIRACLE ON 34TH STREET and the dates are December 4th, 5th, 11th, 12th, 13th, 17th, 18th, and 19th at the Muncie Civic Theater. It is a musical version of the holday classic. Thursday, Friday, and Saturday shows at 7:30 pm and Sunday is at 2 pm. Tickets can be reserved at http://www.munciecivic.org and will be really good for the family. It has been a good show and I am glad to be making my return to the Muncie Civic Theater. I will now get to my selections for the week.
Scottsboro: An American Tragedy (2000): I start the week out with this documentary from the PBS series AMERICAN EXPERIENCE. This focuses on the trial of the "Scottsboro Boys" which was a trial in Alabama in 1931 where nine black men were tried for a rape which had questionable evidence but still very difficult since they were black in the 1930s Alabama. Andre Braugher is the narrator and Frances McDormand, Stanley Tucci, Harris Yulin, Jeffrey DeMunn, Nesbitt Blaisdell, Lee Wilkof, and many others provide their voices for this documentary. I had never heard of this part of history and was a very fascinating watch on how in this era in the south blacks were pretty much automatically guilty because of their skin. They did have an attorney who did what he could to get them a fair trial to the point of going to the Supreme Court. This documentary is worth a look and an important part of history.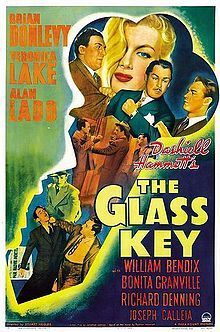 The Glass Key (1942): This is my film noir for the week. Brian Donlevy stars as crooked politician Paul Madvig who decides to clean up his act and stops getting support from gangster Nick Varna, played by Joseph Calleia, and support respectable reformist politician Ralph Henry, played by Moroni Olsen. When Ralph's son Taylor, played by Richard Denning, is found killed, it is made to look as though Paul did it so he looks to find who killed him. Alan Ladd, Bonita Granville, William Bendix, and many others co-star in this film. This movie is pretty complicated so it does require full attention but worth it for the story and performances.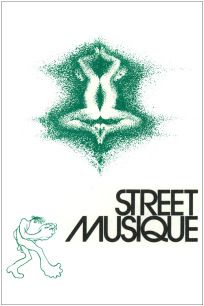 Street Musique (1972): This is my short film for the week. After being into the 2004 animation short RYAN which is also a documentary on Ryan Larkin who wrote and directed this animated short. A lot of this is abstract drawings of music animation. It is really hard to explain what happens but is some really good animation that is available on Youtube. Larkin was someone who had a rather promising career in the 70s but his alcohol and cocaine problems put a stop to it. He tried to get back on his career after the animation short RYAN but died of lung cancer in 2007. If watching this, also look into RYAN which is possibly my favorite animated short.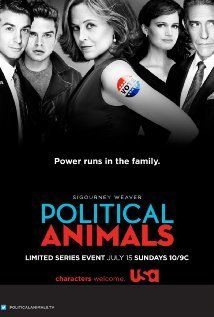 Political Animals (2012): This is my tv mini-series for the week and part two of my three part Carla Gugino series. Sigourney Weaver stars as divorced and and former first lady Elaine Barrish who is serving as Secretary of State but considers running for presidency while trying to keep her dysfunctional family together. She finds an unlikely ally in D.C. journalist Susan Berg who has written many negative articles on Barrish. Ciaran Hinds, Ellen Burstyn, James Wolk, Sebastian Stan, Brittany Ishibashi, Adrian Pasdar, Roger Bart, Dylan Baker, Madchen Amick, Vanessa Redgrave, Wes Chatham, and many others co-star in this mini-series. Hinds plays the former president Bud Hammond. This has six hour long episodes and is a pretty compelling series taking a look at a political family and trying to keep them together despite many personal issues they have. It also does a good job of the political team dealing with foreign issues. It takes a look at some firsts like a first lady divorcing and one of the kids coming out of the closet during Bud's presidency. This is available on Instant Netflix.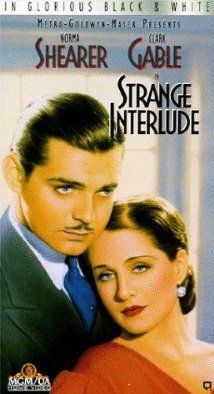 Strange Interlude (1932): This is part one of a possible two-part Clark Gable series. This is based on the play by Eugene O'Neill which is a five hour play condensed into 109 minutes and I think I'll accept the shortening of this movie. Norma Shearer stars as Nina Leeds who become very concerned when she learns that insanity runs in the family of her husband Charlie, played by Ralph Morgan, and is advised by her mother in law to not have kids no matter how much she wants one. She really wants that child so she decides to have an affair with a doctor named Ned, played by Gable, and they have a child named Gordon but pass him off as Charlie's son. Robert Young, Alexander Kirkland, May Robson, Maureen O'Sullivan, and Henry Walthall co-star in this film. This is a drama that takes place over the course of about 20 years and is quite strange and flawed but still rather interesting. It is pretty much a breakthrough role for Gable who looks pretty good later as an older man. It also has the unusual use of hearing the thoughts of the characters when they are not actually talking. It is worth a look to see this pre-code movie and when doing with this one, check out ANIMAL CRACKERS from the Marx Brothers to see them spoof the play.
W.E. (2011): This is part two of a two-part Oscar Isaac series and part one of a possible two-part James Best series. Madonna makes her directorial debut and co-directed this movie along with Alek Keshishian. There are two different stories that that are about six decades apart. In 1930, King Edward VIII, played by James D'Arcy, has an affair with American divorcee Wallis Simpson, played by Andrea Riseborough. In the modern-day Abbie Cornish stars as a housewife named Wally Winthrop who is neglected by her doctor husband William, played by Richard Coyle, and finds solace in this story of Edward VIII. Oscar Isaac, David Harbour, James Fox, Judy Parfitt, Geoffrey Palmer, and many others co-star in this film. This was not the most well received movie among critics or at the box office. The older story was the much better one in my opinion and was a very compelling story while the modern one did not excel nearly as well. It also has a good soundtrack like the Golden Globe award winning song MASTERPIECE. It is worth a look at least for the older story and a good effort by the usual singer.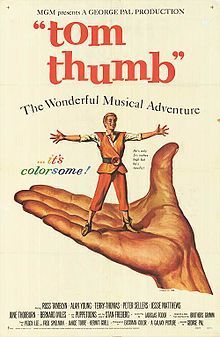 Tom Thumb (1958): This is my more family oriented movie for the week which was directed by George Pal and based on the famous story by the Brothers Grimm. Bernard Miles and Jessie Matthews star as married couple Jonathan and Anne who long for a child in which the Forest Queen, played by June Thorburn grants in the form of the title character, played by Russ Tamblyn, who is very small but lovable. The small Tom Thumb must thwart a couple criminals, played by British legends Peter Sellers and Terry-Thomas who are very amusing in this comedy. Alan Young, Bernard Miles, and Peter Bull all co-star in this movie. In some ways, I suppose this is like a Pinocchio in which someone is brought to life but rather naive to the horrors of the world like Tom Thumb believing the criminals at first when they said they were out for charity. I think I like the Forrest Queen more than I do the Blue Fairy. It could also be considered the original TOY STORY in which toys come to life and it is by the presence of Tom Thumb. It is a pretty fun movie and very family friendly for the children with amusing special effects which were likely good for their time but still good in shrinking Tamblyn.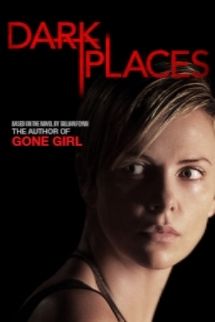 Dark Places (2014): This is part two of a possible five part series for actor Corey Stoll. In over a decade of writing these, this actually makes history. I actually read the book before watching the movie and at the time I did not know any information on who was in it or anything else except the book itself. Gilles Paquet-Brenner directed this adaptation of the novel written by Gillian Flynn who is most known for GONE GIRL and when walking through Wal-Mart while getting an oil change, this book stood out most to me. Charlize Theron stars as Libby Day, played by Sterling Jerins when she is younger, who nearly 30 years ago witnesses the massacre of her family when she was only eight years of age. She survives and gives, if not coached, testimony that her brother Ben, played boy Tye Sheridan in the younger years and Corey Stoll in the modern era, that she saw him killing her mother, played by Christina Hendricks and two sisters, played by Natalie Precht and Madison McGuire. In the modern-day, Libby is beginning to run out of donations that many sympathizers had been sending through the years and is hired by a group looking to find what really happens making her rethink the testimony she gave years ago. Andrea Roth, Nicholas Hoult, Chloe Grace Moretz, Sean Bridgers, J. Rarose, Shannon Kook, Jennifer Pierce Mathus, Lori Z. Cordova, Jeff Chase, Drea De Matteo, Laura Cayouette, Richard Gunn, and many others co-star in this film. I am trying to become more of a reader though have done less with the show I am in but I did read this is about three weeks and really enjoyed the book. This movie I felt went along pretty well with the book in the way they go back and forth with this era and in the year 1985 when the murder happened. As far as movies go, I did prefer GONE GIRL which inspired me to look into this book which was quite twisted. It was good to finally read first, then watch the movie before I find any info on it. This is available on Amazon Prime.
Barry Lyndon (1975): Stanley Kubrick directed this film based on the novel by by William Makepeace Thackeray. This takes place in the 18th Century where Ryan O'Neal stars as Irish farm boy Redmond Barry who later becomes the title character. When in love with Nora Bailey, played by Gay Hamilton, who becomes engaged to British Captain John Quin, played by Leonard Rossiter. When this happens, Redmond challenges John to a duel which he wins but must flee and decides to British Army in the British Army. He continues his adventures meeting up with the wealthy Lady Lyndon, played by Marisa Berenson, who he marries. Barry becomes obsessed with nobility but makes an enemy in the process. Patrick Magee, Hardy Kruger, Steven Berkoff, Murray Melvin, Andre Morell, Leon Vitali, and many others co-star in this film. This has some beautiful visuals and a really good soundtrack making good use of classical music. It also has some good duel scenes with O'Neil in possibly his best performance. If you have three hours to watch this, it will be worth it.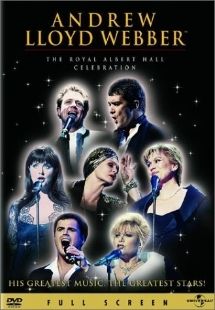 Andrew Lloyd Webber: The Royal Albert Hall Celebration (1999): This is part two of a possible three part Antonio Banderas series My first selection was technically an episode from a documentary series just like this is an episode of the series GREAT PERFORMANCES. This is a live celebration to of Andrew Lloyd Webber's productions that include WHISTLE DOWN THE WIND, JOSEPH AND THE AMAZING TECHNICOLOR DREAMCOAT, EVITA, STARLIGHT EXPRESS, JESUS CHRIST SUPERSTAR, REQUIEM, THE PHANTOM OF THE OPERA, SUNSET BOULEVARD, ASPECTS OF LOVE, and CATS. This is a really enjoyable night of musical numbers performed by Tina Arena, Donny Osmond, Antonio Banderas, Elaine Paige, Ray Shell, Dennis O'Neil, Sarah Brightman, Ben De'ath, Marcus Lovett, Marcus Ball, Bonnie Tyler, Boyzone, Glenn Close, Kiri Te Kanawa, and Lottie Mayor. It was great to see Brightman in some numbers. Antonio Banderas did some of his stuff from EVITA but what surprised me is him singing PHANTOM OF THE OPERA with Brightman and actually did a surprisingly good job. I have always wanted to see the SUNSET BOULEVARD musical version and Glenn Close gave me a start to Webb. This was a really good celebration towards Webber whose birthday was this evening.
Well, that is it for this week. Tell me what you like and dislike and stay tuned for next week which so far includes Julia Roberts, Robert De Niro, and many others.