Welcome to the 472nd Edition of my series. Today is the last performance for 1776, it's been a great show and hope to work there again sometime. There was a great cast and crew to bring together a good musical. I got to meet a lot new great new people and hope someday to work with them again. Thanks to all involved, it has been worth the drive from Muncie. I will now get to my recommendations for the week.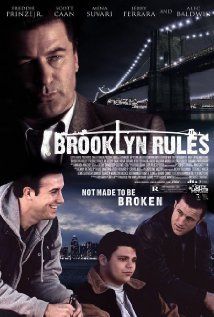 Brooklyn Rules (2007): Michael Corrente directed this movie which was written by Terence Winter. This centers around three friends who have been friends since childhood. The first is Michael, played by Freddie Prinze Jr., the second is Carmine, played by Scott Caan, and the third is Bobby, played by Jerry Ferrara. They have always grown around the Mafia and Carmine decides he wants more of that lifestyle which affects the other two. Alec Baldwin, Mena Suvari, Annie Golden, and Monica Keena co-star in this movie. This was not a great movie but a decent one that takes a look at friendship and the questions of loyalty and the tests a friendship can have. The characters are pretty well written and is worth a look if you don't have the expectations of GOODFELLAS or THE GODFATHER.
Patton Oswalt: My Weakness is Strong (2009): This is my stand-up special for the week. Oswalt is likely most known as Remy the Rat in RATATOUILLE. He reflects on the difficulty of having to be a good example to kids during that film. He talks about everything from texting to werewolves. It is a stand-up show that many can relate to while still delivering some laughs. Fans of Oswalt and those who do not know him should check out this special which is a little over an hour. This is available on Instant Netflix. I'll also put in a plug for his comedy BIG FAN.
The Whistleblower (2010): This is part three of my David Strathairn trilogy. Larysa Kondracki directed and co-wrote this film based on a true story. Rachel Weisz stars as Kathy Bolkovac who is an American police officer and her idealism and need for money lead her to accept a job as peacekeeper in post-war Bosnia. In her thought that she would be able to help rebuild the devastated nation, she soon begins to uncover sex trafficking and corruption from the diplomatic community. She puts her life on the line in hopes of saving the female slaves. Monica Bellucci, Vanessa Redgrave, Benedict Cumberbatch, David Hewlett, Liam Cunningham, and many others co-star in this film. This is a very intriguing thriller and can make one cringe. Kathryn Bolkovac still works as a motivational speaker and provides consultancy on whistleblowing protection. Weisz was great in this film and it deserves a look.
Un Chien Andalou (1929): This is my short film for the week which was directed by Luis Bunuel and co-wrote alongside Salvador Dali. This is Bunuel's debut film and was the start of quite a career. This is a surrealistic film with rather bizarre imagery left to interpretation. They have everything from slitting a woman's eye and a dead horse on top of a piano. This is mostly from those who are buffs of the French cinema. No matter what you think, it will be remembered.
The Unearthly (1957): I decided to check out a little MYSTERY SCIENCE THEATER 3000 this week and came across this one. John Carradine stars as mad scientist Dr. Charles Conway who specializes in longevity where he misleads people into thinking their depression will be cured but really turns them more into zombies. This episode had the original host Joel and along with Crow and Cambot, they make some pretty funny jokes at this enjoyable b-movie. It made me think about John Carradine who had a lot of really good movies and a lot of really bad ones. Tor Johnson co-stars as Lobo which was a character he played or was at least named in the Ed Wood movies and actually talks in this one for a change. This is available on watch on Instant Netflix.
1776 (1972): In being a part of production, I decided to revisit this musical on the signing of the declaration of independence. William Daniels stars as Massachusetts representative John Adams who wants independence from British rule but struggles to convince the others and is opposed by some of congress, mostly with the thoughts that it was not the right time and it would not work. Along for the ride is Benjamin Franklin, played by Howard Da Silva, and a reluctant Thomas Jefferson, played by Ken Howard, who Adams appoints to write the Declaration of Independence. I had the pleasure of playing Samuel Chase of Maryland and got to eat on stage. This is a dramatization of the events that lead up to the signing. To my knowledge, there really is not any real documents that show what happened during this time period. It is good to see the supporting cast portrayed and made me appreciate it a lot more. There are also a lot of fun musical numbers. It was brought to my attention that the original version did not have the song COOL, CONSIDERATE MEN which apparently happened due to Richard Nixon's objection. The version which has 2 hours and 46 minutes does have this song and is available on Amazon Prime which is what I watched it on. This has been a pretty underrated musical and will be a fun watch if you don't expect absolute historical accuracy.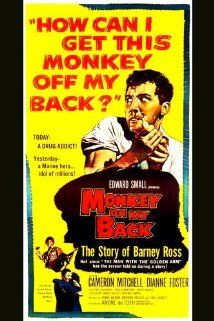 Monkey on my Back (1957): This is another biographical drama which is based on former champion boxer and WWII hero Barney Ross. Cameron Mitchell stars as Ross, who starts out with a gambling addiction who is in debt to many but changes his ways for a woman only to develop a morphine addiction. Dianne Foster co-stars as his love interest Cathy who does what she can to save from his addiction but finds it is not easy. This is a pretty decent and watchable drama in this era. This is available on Instant Netflix.
The Rain People (1969): Francis Ford Coppola wrote and directed this drama. Shirley Knight stars as Natalie who goes into a panic after learning of her pregnancy and runs away from home leaving her husband behind. Along the way, she meets a hitchhiker named Jimmy but nicknamed Killer, played by James Caan, who is brain damaged and a bit slow in the head. She does what she can to help him and even find him a job so she can move on but cannot do that. She also meets a patrolman, played by Robert Duvall, where she has another rather complicated relationship. This is a nice road movie and coming of age one in some ways. Caan and Duvall would later have their careers made in Coppola's THE GODFATHER but this is a pretty good pre-teaming with believable performances.. This is not a very upbeat movie but very well-written and underrated.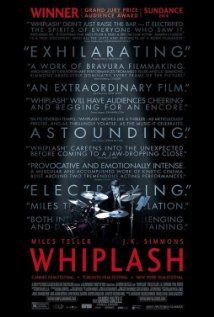 Whiplash (2014): I had the pleasure of viewing this one at the Keystone Arts Cinema in Indianapolis. My friend Doug and I had not seen anything there for awhile but like going out there and when he suggested this one I had not heard of it but trusted his judgment. Damien Chazelle wrote and directed this independent film. Miles Teller stars as young drummer Andrew who attends a very prestigious music academy in the class of the ruthless Fletcher, played by J.K. Simmons. Fletcher will not hold back on his students to the point of verbal and a little physical abuse. Andrew and Fletcher form a very odd relationship and rivalry that gets very intense. Paul Reiser and Melissa Benoist co-star in this film. I don't know when the last time was I saw Reiser who plays Andrew's father who begins to question his son's decision to join Fletcher's class. This is a really good film showing how far someone will and should go to achieve greatness in the eyes of the public which can be very difficult on their personal life. This movie has a very interesting climax between Andrew and Fletcher. This was worth the money paid at the movie theater which is a movie theater I prefer to support which show independent film.
The Five Senses (1999): I end the week with this Toronto independent film. Jeremy Podeswa wrote and directed this movie of interconnecting stories that base themselves on each of the five senses. The movie centers around a three year old girl who goes missing and those involved in her life whether directly or indirectly. Molly Parker, Mary-Louise Parker, Gabrielle Rose, Nadia Litz, and many others co-star in this independent drama. My favorite story was that of a man losing his hearing and doing what he can to keep from losing it.
Well, that is it for this week. Tell me what you like and dislike and stay tuned for next week which so far includes Robert De Niro, Halle Berry, Mickey Rourke, and many others.