Welcome to the 473rd Edition of my series. The first month of the holidays have started but I won't overdue it holiday selections. I am unemployed in the world of theater and entertainment for now but I always have karaoke at my front if need be so for now I will continue this great work. I don't really have much to say at the moment so I'll just get to my selections for the week.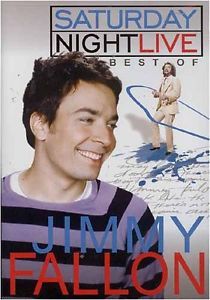 Saturday Night Live: The Best of Jimmy Fallon (2005): This probably does not qualify as a movie but since it is my blog and I make the rules I can call it that. This is a few skits from Jimmy Fallon on his SNL days before he became a late night host. One notable one is where he is impersonating Mick Jagger while Mick Jagger is on the other side and looking through a mirror. There is also some Celebrity Jeopardy where he does a dead-on Adam Sandler impersonation. Some of them near the end I did not find as funny but this does deliver laughs like a cameo by Robert De Niro.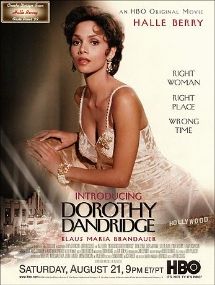 Introducing Dorothy Dandridge (1999): This is my biopic for the week and HBO movie. Halle Berry stars as Dorothy Dandridge who I suppose one could say she broke the color barrier among Hollywood. This follows her early career when she was performing in nightclubs with a sister act among her family, into her rise in Hollywood where she became the first black actress to be nominated for Best Actress. It also shows her dark side in life. Brent Spiner co-stars as her her very faithful agent who stands by her no matter what. Klaus Maria Brandauer co-stars as director Otto Preminger who has an affair with Dandridge and also helped her career get going but might have made some wrong decisions afterwards. Obba Babatunde, Loretta Devine, Cynda Williams, William Atherton, D.B. Sweeney, and many others co-star in this film. This is a pretty decent story of an actress who broke ground being a black woman playing non-slave/servant roles but had a very tragic life. Quite the irony that the star of the film was the first black woman to win Best Actress and portrays the first black woman to be nominated for Best Actress.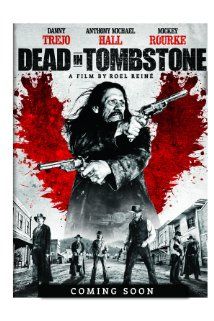 Dead in Tombstone (2013): This is my guilty pleasure of the week. Danny Trejo stars as Guerrero who is a gang leader in a western town and is murdered in a power play. In his death, he ends up in hell where he meets the devil, played by none other than Mickey Rourke fresh off his victory in boxing, and proposes to the devil a deal where he will kill six other gang members and bring their souls for him to escape damnation. Anthony Michael Hall co-stars as Guerrero's brother which I assume is a half one who is now the leader of the gang. Hall was far meaner than I have ever seen him. Dina Meyer co-stars as a town cop who helps Guerrero in his mission. This is what it is and rather fun if not taken too seriously and an interesting twist towards the western genre. This is available on Instant Netflix.
Posture Pals (1952): This is my short for the week which was featured on the MYSTERY SCIENCE THEATER 3000 episode which showed last week's feature THE UNEARTHLY. This takes place in a third grade classroom where a teacher gives a "posture test" where four kids fail it and are encouraged to work together so that they can earn a paper crown for winning. This was funny on many levels and was a perfect way for MST3K to start out. This episode can be found on Instant Netflix.
Babes in Toyland (1934): I finally bring a holiday selection in this version of the classic tale which stars comedy duo Laurel and Hardy. In the world of Toyland, Ollie Dee and Stanley Dum try to borrow money from their employer the Toymaker in hopes of paying the mortgage on Mother Peep's shoe and keep Little Bo Peep from having to marry the ruthless Barnaby, played by Henry Brandon. The bumbling friends do everything possible to help the Peep family with some very funny results. This is a really a good movie that brings together a lot of fairy tales and the best of what I have seen from Laurel and Hardy.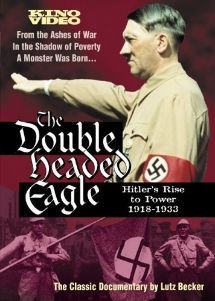 Double Headed Eagle: Hitler's Rise to Power 1918-1933 (1973): This is my documentary for the week which is more like clips put together from these time periods. There were some footage that was pretty rare like one where it appears that he had just come into power. There were some other pretty interesting speeches from Hitler which really show his skills as an orator and his ways of making his people actually believe him. Some of the footage I found a bit unnecessary but was worth it of the footage showing the rise of the Nazi regime and especially for the beginning speech he made. This is also available Instant Netflix.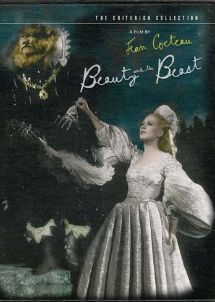 Beauty and the Beast (1946): Notice the year this was made. This is my French film for the week which was directed by Jean Cocteau. Josette Day stars as Belle whose father ends up at a castle ran by a beast, played by Jean Marais, and is taken prisoner. She decides to take his place in his castle where the start of this tale as old as time begins. As you see, the plot is pretty much the same as the famed Disney version but this version has darker imagery within the castle. This does not have the talking objects but has things like arms holding the candles in the wall. This is still a very good and compelling version of this tale with very good performances all around. From what I can remember, there is no explanation on why the prince became a beast. Cocteau also did a great job of making the most of what he had long before we had the technology for special effects. This tale as old as time really deserves a watch and could be a good double feature to watch along with the Disney version in which I had the pleasure to play Lefou in our local version.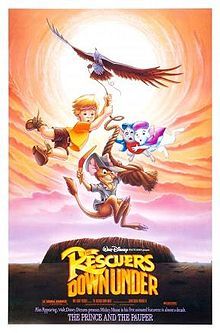 The Rescuers Down Under (1990): I follow up now with some Disney animation. The courageous mice Bernard and Miss Bianca, voiced by Bob Newhart and Eva Gabor, return to save a boy and a rare eagle from a very ruthless poacher named McLeach, voiced by George C. Scott. This was a sequel to the 1977 film THE RESCUERS. John Candy provides the voice to the loyal Albatross Wilbur. Tristan Rogers, Frank Welker, Douglas Seale, Billy Barty, and many others provide their voices to this film. This is a pretty fun adventure film which can be pretty disturbing at times with McLeach who has absolutely no redeeming qualities. Still something the family can watch in my opinion and a pretty good sequel unless it is considered more like a continuation. This is available on Instant Netflix along with the first one.
12 Angry Men (1957): Sidney Lumet directed this film which is really one of my favorites from the era. The trial portion of a murder case is over and now the jury must decide the fate of the defendant. The jurors are ready to go and most believe he is guilty thinking it will not be a long deliberation until juror #8, played very well by Henry Fonda, feels that the evidence is not as obvious as many think. He begins to work on the other 11 jurors that there is reasonable doubt in the case. Martin Balsam, John Fiedler, Lee J. Cobb, E.G. Marshall, Jack Klugman, Edward Binns, Jack Warden, Joseph Sweeney, Ed Begley, George Voskovec, and Robert Webber star as the other members of the jury. The movie revolved in the jury room showing all the tension within the room. I once auditioned for a play version at Belfry but unfortunately did not get a part. Any theater in my area, let's give this a shot please. I was once a member of a jury in a trial that lasted a whole week where it did not quite get this intense but really had to work through some disagreements. The whole case carried this movie very well and a movie I never tire of seeing. This is available on Instant Netflix.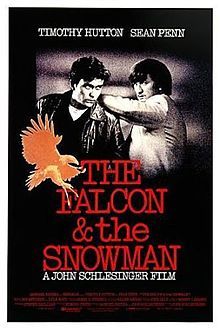 The Falcon and the Snowman (1985): I end with this 80s film where I came up with a list of 20 films that I thought would fit the week as the 10th film and messaged my friend Amber whose selection of 13 resulted in this one. John Schlesinger directed this film based on the novel by Robert Lindsey which is based on a true story. Timothy Hutton stars as Christopher Boyce who is an All-American man who works as a guard for sensitive government documents. What Boyce begins to see makes him lose his faith in his country and becomes a spy for Russia along with his drug pusher childhood friend Daulton, played by Sean Penn. Pat Hingle, Joyce Van Patten, and Dorian Harewood all co-star in this film. It's a rather unbelievable but true tale of seemingly regular people selling secrets to Russia. Any more description may give this away but I believe this is a rather overlooked 80s movie that really deserves a look.
Well, that is it for this week. Tell me what you like and dislike and stay tuned for next week which so far includes Mel Gibson, Bette Davis, Leonardo DiCaprio, and many others.